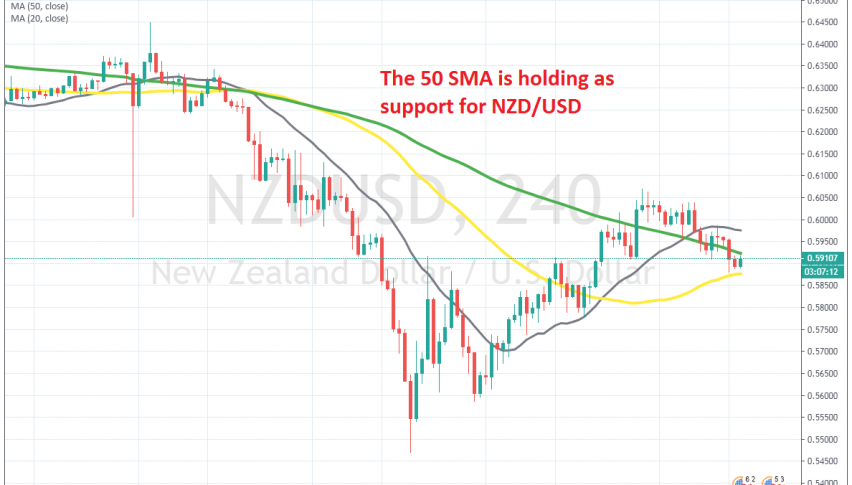 Buying The Pullback in NZD/USD a the 50 SMA
NZD/USD crashed down in the first two weeks of this month, as did all risk assets due to a major negative reversal in the investor sentiment across all financial markets. The USD also surged higher, which was one of the main reasons for this pair to decline around 10 cents in the first half of this month.
But, last week the USD retraced as Donald Trump introduced the $2 trillion bill and the risk sentiment improved somewhat, despite coronavirus spreading further in the West. Risk assets such as stock markets retraced higher and so did NZD/USD, which climbed around 6 cents from the bottom, moving above the $60 level again.
But, USD buyers have returned this week and they have pushed the USD around 200 pips higher, which is no much by recent standards, but enough for a decent retrace. The price reached the 50 SMA (yellow) on the H4 chart earlier today, which was providing support, so we decided to open a buy signal from there, hoping for a bounce.
The bounce is underway, but the 100 SMA (green) is ruining our plans. That moving average turned into resistance, but let's see if it will last. We hope it doesn't, so we can start the new month with some nice profit. We are already in profit, but there's still quite some time until the price reaches our take profit target, so the 100 SMA will have to be broken from buyers.
Update: The signal has hit the take profit target as the bounce continues above the 100 SMA, cashing in