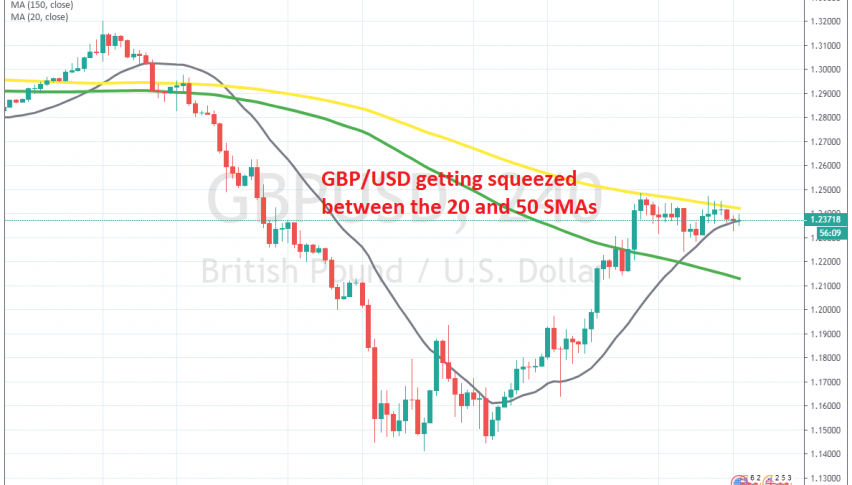 The 50 SMA is Keeping GBP/USD Subdued, But the 20 SMA is Approaching
GBP/USD crashed down earlier this month, as the USD surged due to the coronavirus outbreak in Europe and the US. The spread of coronavirus in the UK wasn't as severe as in other parts of Europe, but the decline in the GBP was much larger than in the Euro.
GBP/USD lost around 18 cents in two weeks, falling from 1.32 to 1.14. But, it made quite a comeback last week, with this pair surging back up to 1.25, as the USD reversed back down on the $2 trillion bill which passed the US Senate last week. Everyone is throwing whatever they can at the economy right now, but $2 trillion is quite a lot of money from the US government, on top of the FED easing.
So, this pair climbed back up, but it couldn't claim all the losses due to the 50 SMA (yellow). This moving average has been providing resistance for this pair since last Friday and despite several attempts to push above it, buyers have failed to break it. But, the 20 SMA has turned into support now on the H4 chart, pushing the price higher.
So, a battle is taking place between buyers and sellers. The price will break out in any direction, as the range narrows, but I have the feeling that the break might come to the downside. We already have a long term sell trade in this pair from last week, so I hope that sellers win this battle.