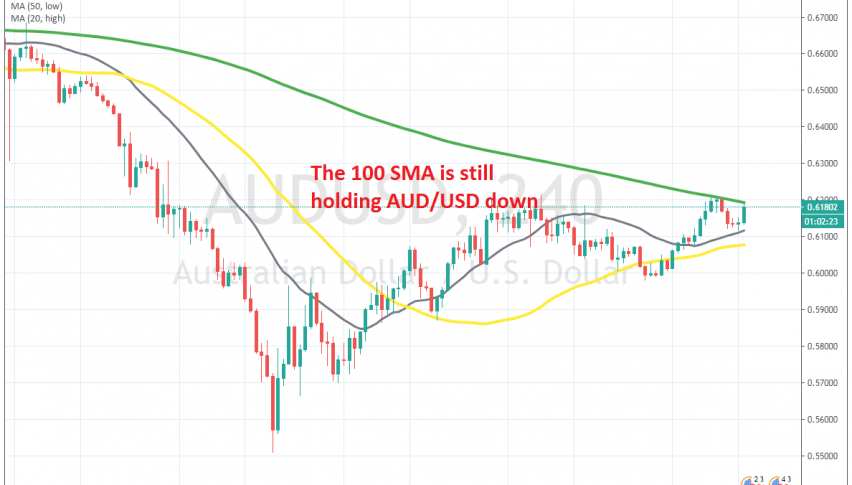 AUD/USD Confined Between 2 MAs
AUD/USD has been bearish for two years now, but last month it made a swan dive, losing around 12 cents from top to bottom, as traders turned to the USD as a global reserve currency in times of panic. But, the risk sentiment improved somewhat after central banks threw the kitchen sink, trying to help the economy in these difficult times.
As a result, AUD/USD has retraced around 7 cents higher so far. During the decline, moving averages couldn't even catch up with the price, since the fall was quite ferocious. The 20 SMA (grey) was providing support at first for this pair, pushing it above 0.60 again.
We did see a decent pullback lower earlier this week and AUD/USD fell below the 20 SMA and the 50 SMA (yellow). But buyers returned again and pushed the price higher tot he 100 SMA (green) on the H4 chart. That moving average stopped the climb and this pair turned lower again during the Asian session today, but the 20 SMA turned into support again and after a couple of doji candlesticks which signaled a bullish reversal, AUD/USD bounced higher.
Although, the 100 SMA is still holding as resistance, so it seems like this pair is stuck between moving averages now. The pressure is to the upside now, but the retrace is a bit overstretched; so we might as well see a return lower, if buyers don't manage to break the 100 SMA soon.