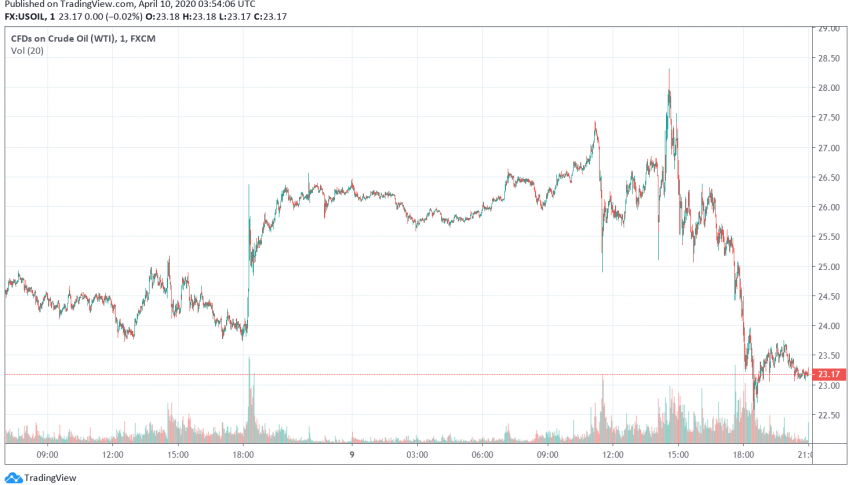 WTI Crude Oil Prices Slide Even After OPEC+ Agrees to Production Cuts
Posted Friday, April 10, 2020 by
Arslan Butt
• 1 min read
WTI crude oil prices are trading weaker after a day of volatile trading during the previous session after the OPEC+ meeting where leading oil producers confirmed plans to curtail crude production. At the time of writing, WTI crude oil is trading at around $23.17 per barrel.
At an emergency meeting, OPEC and its allies agreed to cut oil production by as much as 15 million bpd, around 15% of global supply, as the coronavirus pandemic severely cuts down oil demand across the world as a result of the shutdowns and travel restrictions. This includes gradual oil production cuts of about 5 million bpd by other oil producing nations outside the OPEC+ group as well.
Although crude oil prices had made some gains earlier in the week over rising expectations of these production cuts, once the cuts were announced, oil prices tumbled over worries of whether this would suffice to offset the declining demand. The demand for crude oil has fallen severely in recent weeks as most countries extend lockdown measures in a desperate bid to contain the rise in coronavirus cases.
So far, other oil producing nations like the US and Canada have not agreed to further cuts in production, although they have reduced production to some extent recently.