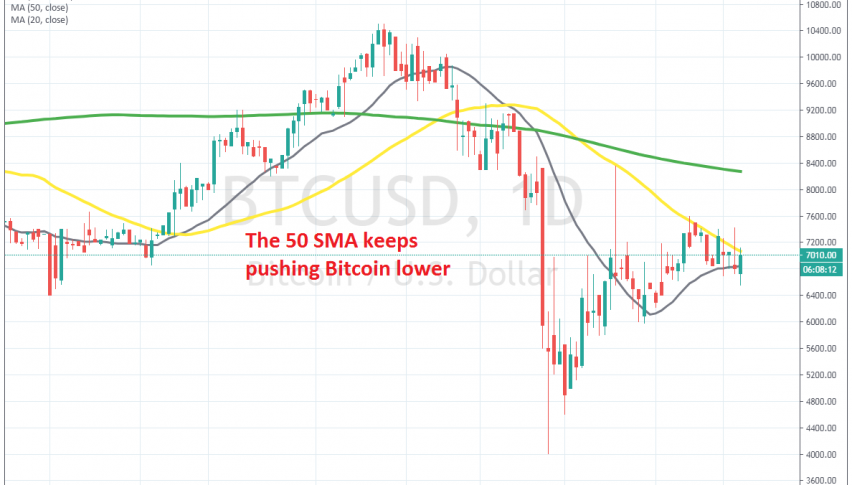 Bitcoin Trying to Decide at the 50 SMA
BITCOIN started the year on the right foot, climbing from around $7,000 to $10,500 in the first two months. But it started to reverse down towards the end of February, as coronavirus broke out in Italy. Then, as the pandemic spread in Europe and North America, the cryptocurrency market crashed down.
Ethereum lost around 75% of its value, falling from $280 to around $80. Bitcoin fell from $10.500 to around $4,000, so it was a big decline as well, but not as big as in Ethereum. It seems like this decline in digital coins doesn't make much sense, because if there will be an economic crisis, fiat currencies will weaken, as they are, because of the cash that's flowing from governments and central banks.
But, if the world is ending, no one will accept digital money in the middle of a zombie land. So, as money flowed into the USD as a global reserve currency, it flowed out of other markets, such as stock markets and the cryptocurrency market. Although, as the flight to the USD reversed, Bitcoin reversed higher as well, climbing to $8,330s by the end of February. But, the 50 SMA (yellow) stopped the climb and Bitcoin reversed back down.
This time, the 20 SMA (grey) turned into support for Bitcoin and after slipping lower for a while, the price turned higher again. The 50 SMA didn't let go as resistance though, and it has been pushing the price lower as it also moves lower. There have been some piercings, but the price has turned below the 50 SMA eventually, so there has been no break. Now this moving average will decide whether Bitcoin will resume the long term trend or it will turn down again.