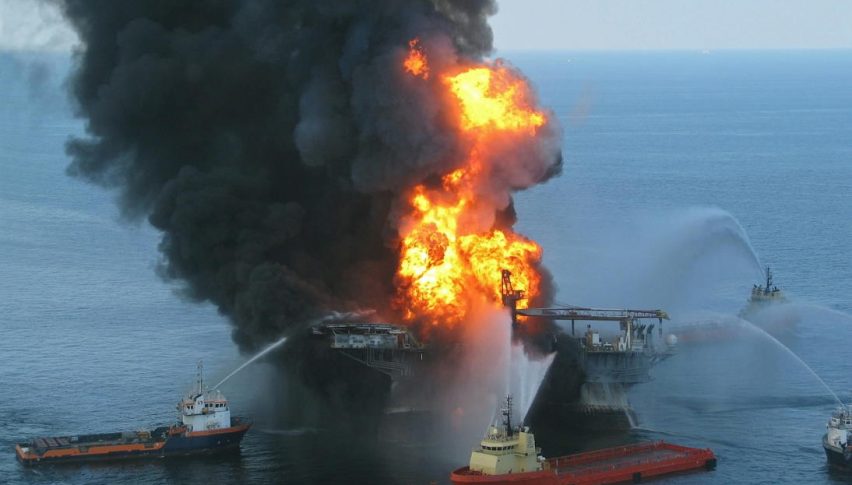 Crude Oil's Crash, Global Market Impact, And Recovery
On Monday, 20 April 2020, WTI crude oil futures entered a 48-hour period of unprecedented volatility. Amid the tumult, May WTI futures closed at an all-time low of $-37.33 per barrel ― yes, oil prices went negative. Financial theory, in fact, became a reality.
The CME's Take On Negative Crude Oil Prices
If you talk to the executives at the Chicago Mercantile Exchange (CME), you will hear a detailed explanation of how and why commodity prices can be negative. In a CNBC interview, CME head Terry Duffy defended the exchange's role in the 20 April WTI crash:
"We worked with government regulators two weeks prior to making our announcement that we were going to allow negative price trading…so, it was no secret that this was coming at us. We have to do things to allow the market to go to a price that is reflecting the fundamentals of the product. The futures market worked to perfection."
That's all fine and dandy. For the most part, I agree with Mr. Duffy. When a commodity's supply far exceeds its storage capacity, storage is more valuable than the commodity itself. This concept isn't rocket science ― everyone knew that the OPEC+ price war and COVID-19 destroyed the supply/demand curve. Here's where Duffy passes the buck:
"The small retail investors are somebody that we do not target. We go for professional participants in our marketplace. But at the same time, they need to make sure they understand the rules and it's up to their futures commodity merchants [brokers] to make sure every participant knows those rules."
Ok, fair enough. It's not the exchange's fault that retail traders didn't know the rules of negative price trading. However, while the CME doesn't target retail traders, they don't discourage them either. On 20-21 April, more than 2 million contracts of May/June WTI crude oil futures changed hands. Volumes of that magnitude are a direct result of electronic trading, low margins, and deep-discount commissions. Without those inputs ― all put forth by the CME ― the number of retail traders involved in the action would have been exponentially lower.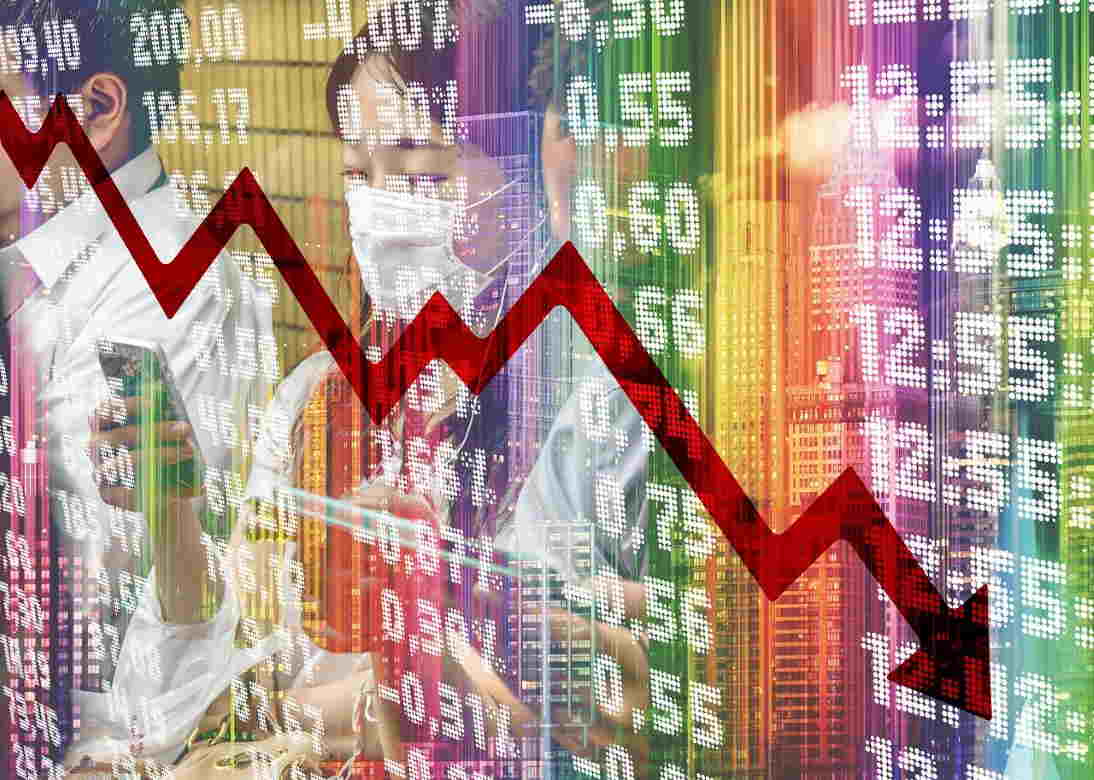 Retail players weren't the only ones that failed to comprehend negative trading ― the pros didn't either. The $4 billion dollar oil ETF United States Oil (USO) was forced into emergency portfolio rebalancing and an 8:1 reverse split to remain tradeable amid the 20-21 April turbulence. Although USO was supposedly already out of the May contract, it wasn't ready for the steep selloff in June WTI. Prices plunged from above $22.50 to $6.50 on 21 April. The move took anyone that was long the market, like USO, into deep water ― fast. 
Implications Of The Crash  
If the fund managers and quants over at USO weren't ready for negative crude oil prices, who was? The broader markets weren't; both the S&P 500 SPX and DJIA DOW posted two-day losses of more than 5%. The crash in oil had unhinged broader market sentiment. Everyone already knew that things were bad because of COVID-19; the WTI crash of 20-21 April suggested that they may be worse.
So, where do crude oil and the general markets go from here? June WTI closed the week on a high note, regaining much of 21 April's losses.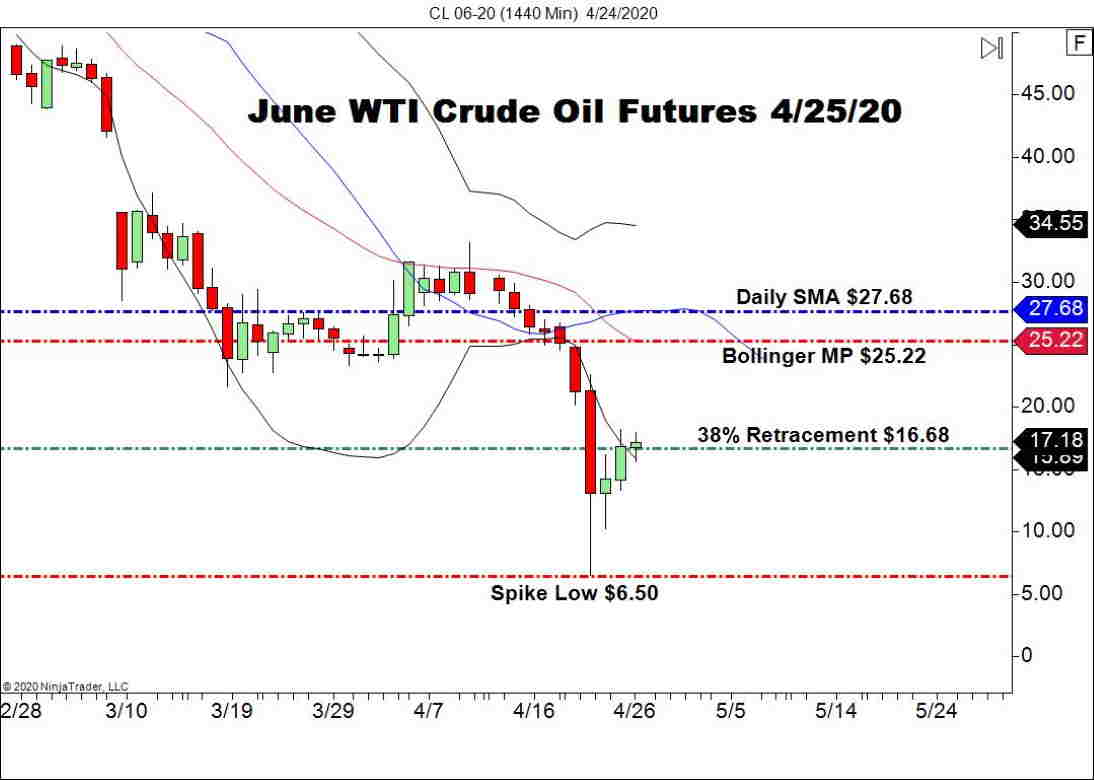 The key technical level for June WTI is the 38% Fibonacci Retracement at $16.68. As long as prices remain above this area, one is well-advised to respect the topside of this market.
Overview
At this point, things are looking up for global oil. Production cuts from Russia, Saudi Arabia, and Kuwait are now in place. The global COVID-19 lockdowns are likely to be lifted in the coming weeks, bringing demand back in line. These two items are working to reduce the extreme contango between the front and deferred-month WTI futures. As of the 24 April Friday close, the June/July WTI spread was $4.07. By historic standards, this number is large. Nonetheless, it pales in comparison to the $20.00+ May/June spreads of 20 April.
So, is it time to buy crude oil? Yes. From a technical standpoint, the daily WTI bearish trend is being challenged. Fundamentally, there's light at the end of the COVID-19 tunnel. Be on the lookout for a quick rally and test of the $20.00 level on Monday/Tuesday of this week. After that, a period of consolidation is likely until the supply/storage/demand dynamic reaches a point of relative equilibrium.
One thing is for certain: fortunes were won and lost on the third Monday of April 2020. However, stocks hung in there as the global crude oil complex collapsed. Unless you were on the wrong end of negative oil pricing, there's reason to believe that a post-coronavirus recovery is underway.
WTI crude oil is enjoying bullish moves as investors continue to look forward to China reopening its economy and easing back on its Zero
4 months ago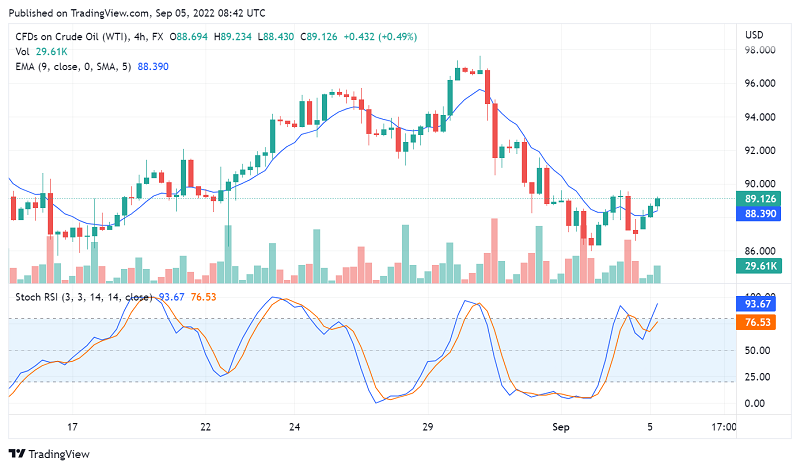 7 months ago