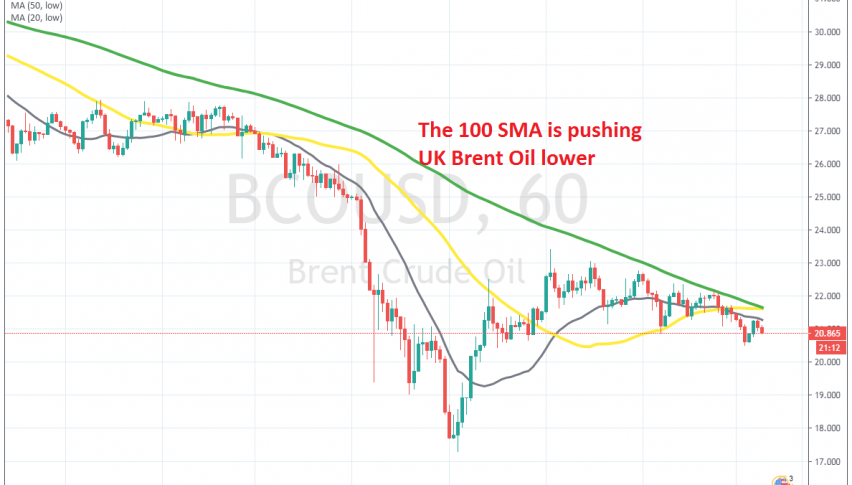 Crude Oil Reverses Down From the 100 SMA
Crude Oil crashed lower in the last couple of months. First it crashed from around $50 to below $20 in March, as Russia refused to join OPEC in a production cut and Saudi Arabia decided to flood markets with cheap Oil. They finally agreed to cut production by 9.7 million barrels/day, which gave Oil a push higher for a short period.
But, as the global lockdown due to coronavirus continued and the demand for Oil declined further, prices turned bearish again and the the lows from March at $19 were broken this month. Then came another wave of panic, as US Oil producers ran out of storage and they started dumping Crude Oil, sending US WTI crude to -$37/barrel.
UK Brent Crude Oil fell to $17/barrel but in the second half of last week we saw a pullback higher. Although, this wasn't going to turn into a bullish reversal, because the lockdown continues and the global economy is still in deep recession. So we decided to take a shot at UK Brent last Friday, selling it below the 100 MSA (green) on the H1 chart.
This proved to be a good trade, because the 100 SMA rejected the price and stared pushing it lower. Today we saw a bearish reversal and eventually closed the trade for a 200 pip profit almost. So, we got yet another sell opportunity in Crude Oil and will continue to look for pullbacks higher to see if we can pick another selling spot.