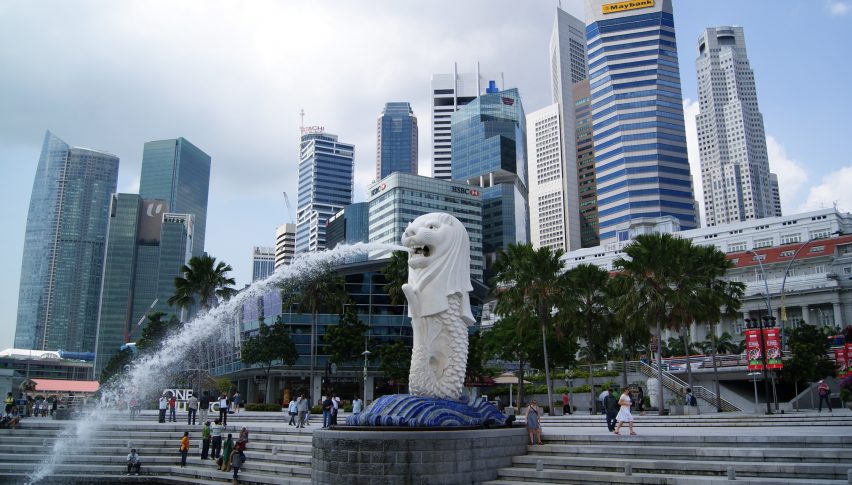 Singapore's Economic Contraction to be More Severe Than Expected: Central Bank
Posted Tuesday, April 28, 2020 by
Arslan Butt
• 1 min read
Singapore's central bank has cautioned that the city-state and one of Asia's powerhouses faces the risk of a more severe recession than previously forecast, in the wake of the coronavirus pandemic. According to the Monetary Authority of Singapore (MAS), the contraction in the economy could be more severe as a result of major downside risks that its economy as well as the global economy are facing.
As per current forecasts, Singapore's GDP for this year could come in between -4% and -1%, but the extended lockdowns, crash in crude oil prices and longer than expected time for recovery could send the economy into a deeper contraction. The MAS highlighted these concerns earlier today in its semi-annual macroeconomic review, adding, "The materialisation of downside risks … could tip the growth outcome in Singapore below the forecast range."
The unexpected decline in crude oil prices is also expected to have a significant impact on Singapore's economy, as oil-related industries like marine and offshore engineering and petroleum refining contribute to around 4% of its GDP. In Q1 2020, the economy of Singapore contracted by 2.2%, the fastest pace seen since the financial crisis back in 2009.
According to the MAS, Q2 GDP could show an even more severe contraction in the economy as the full impact of the lockdown measures implemented domestically and across its major trade partners will be felt to a greater extent. In addition, the economy is also likely to come over strain as a result of soaring unemployment and a reduction in wages in the coming months.
We have some important economic events this week, although crude Oil is under spotlight as China's economy should show a rebound
4 weeks ago