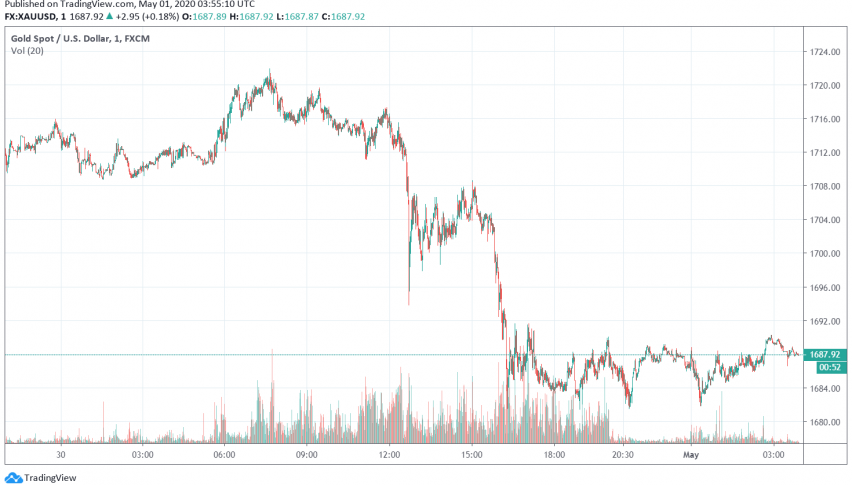 Gold Gains Over Dismal Economic Data Releases From the US
Early on Friday, gold is showing signs of bullishness and making gains following the release of disappointing economic data from the US over the previous session, reinforcing signs of strain in the economy due to the coronavirus pandemic. At the time of writing, GOLD is trading at a little above $1,687.
Despite Friday's gains, gold looks all set to post the biggest weekly decline in over a month over rising hopes about some countries easing shutdowns and restarting economic activity in the coming weeks. So far this week, the yellow metal has lost around 2.5% of its value as a result of the improvement in the market sentiment.
The recent boost in the safe haven appeal of gold came after the weekly jobless claims figures for the US continued to climb higher, with the total number exceeding 30 million since the country went into shutdown mode in March. Meanwhile, consumer spending in the US has also seen a sharp decline as as result of the lockdowns and as the number of unemployed people continue to rise.
Gold prices also enjoyed some support from the recent Fed meeting in which the central bank expressed interest in rolling out further stimulus efforts to prop up the US economy in the near future. According to estimates by House Speaker Nancy Pelosi, state and local governments across the US could need up to $1 trillion worth of financial assistance in the coming years to deal with the aftermath of the coronavirus pandemic.