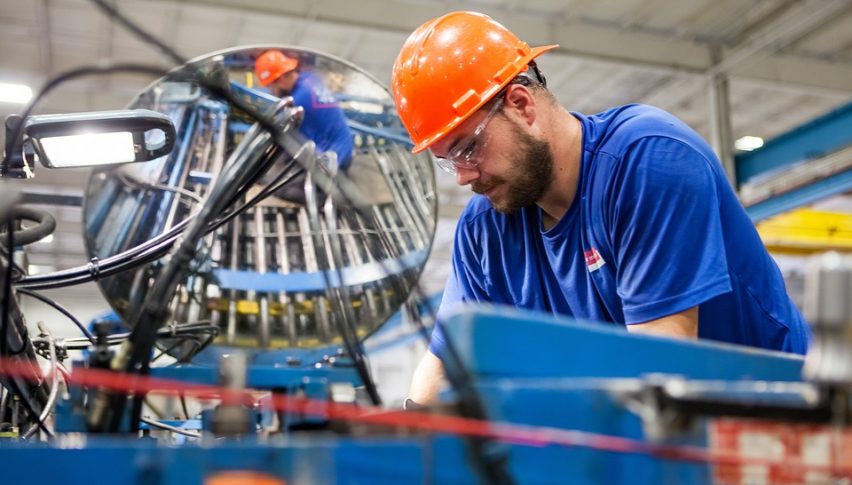 US ISM Manufacturing Hold Better Than Expected
The US manufacturing sector fell in contraction last year, but in the first two months of this year manufacturing activity picked up and the ISM indicator resurfaced above 50 points again, which means it left contraction behind. But as coronavirus came and it fell into contraction again in March, to 49.1 points. April was expected to be much worse, as the US went into full shut-down and it did fall deeper into contraction indeed, but not by as much as was expected.
This is a good sign, since April was the peak month and now different states are beginning to reopen. So, I think May will be better and the good thing is that US manufacturing didn't fall as deep in contraction last month as other developed countries in Europe. Below is the report:
April ISM manufacturing 41.5 vs 36.0 expected
February stood at 49.1
New orders 27.1 vs 42.2 prior
Employment 27.5 vs 43.8 prior
Prices paid 35.3 vs 33.0 expected
This is a significant beat and it's helped risk assets. USD/JPY is higher now but the rally came before the data.
Comments in the report:
"Thirty-percent decrease for April due to COVID-19 impact on both customers and suppliers." (Computer & Electronic Products)
"Production stopped, other than to make hand sanitizer for those in need." (Chemical Products)
"COVID-19 has created a wave of activities, including vendors closing, vendors focusing only on the medical industry, employees not coming to work, delayed shipments from overseas, [and] etcetera." (Transportation Equipment)
"The food processing B2B space remains steady. We are weathering the storm. There is a fortunate increased need for packaged foods. Softening is showing through in some products that find their way into food service and lodging." (Food, Beverage & Tobacco Products)
"Our refinery is losing money making gasoline due to the falling demand." (Petroleum & Coal Products)
"We supply the construction industry in various ways, where the slowdown has been a bit slower than most industries. It is, however; beginning to impact our business, and we see more challenges on the horizon." (Fabricated Metal Products)
"The company I work for manufactures personal protective equipment [PPE], specifically N95 masks, face shields, as well as selling protective clothing and hand protection. In the area of PPE, our backlog has spiked to numbers we have never seen. While no doubt some of the backorders will be canceled, many of the orders are longer term commitments from [the] U.S. government." (Apparel, Leather & Allied Products)
"Our packaging business is starting to see signs of a slowdown in May after two strong months into COVID-19." (Paper Products)
"COVID-19 has destroyed our market and our company. Without a full recovery very soon, and some assistance, I fear for our ability to continue operations." (Nonmetallic Mineral Products)
"Dealing with the effects of coronavirus and having 65 percent of our operations down." (Furniture & Related Products)