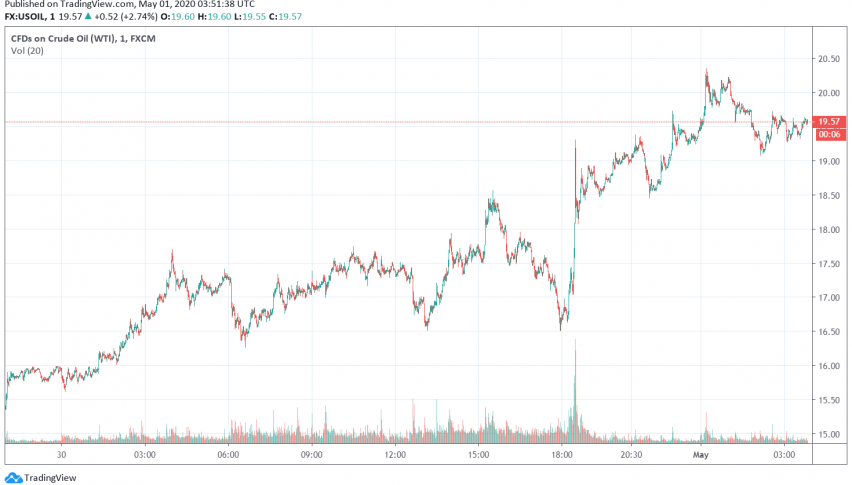 WTI Crude Oil Continues to Climb Higher as OPEC+ Supply Cuts Kick In
WTI crude oil prices continue to trade bullish into Friday as markets remain optimistic about the less than anticipated build-up in US crude inventories over the previous week and as OPEC+ starts cutting production this month. At the time of writing, WTI crude oil is trading at around $19.57 per barrel.
WTI crude oil contracts for June jumped 25% higher over the previous session as traders remained optimistic about demand bottoming out in the US amid the coronavirus pandemic. US crude stockpiles increased by less than forecast, allaying concerns about a supply glut which had caused US oil prices to crash into negative territory recently.
Meanwhile, crude oil prices received another boost as markets look forward to deeper production curbs by leading oil producers, OPEC and allies. Following raised tensions between Saudi Arabia and Russia over the price war, OPEC+ nations had agreed to curtail crude supply in the wake of the coronavirus pandemic which has dented global oil demand severely.
These production cuts are expected to begin from today and should help balance the supply and demand in global oil markets to some extent. OPEC+ has committed to nearly 10 million bpd supply cuts; however, this still falls short of the 30 million bpd cut in global oil demand estimated for the year on the back of extended lockdown conditions worldwide.
Despite these recent gains, crude oil prices are likely to remain under pressure as long as concerns about the coronavirus pandemic and its economic impact dominate the market sentiment. With the global economy headed towards recession this year, demand for oil is expected to remain weak for a considerable amount of time in the near future.