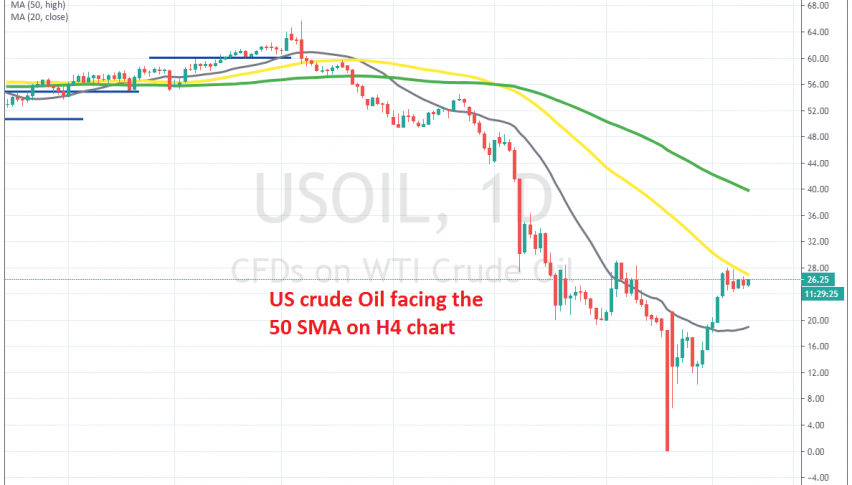 Crude Oil Trying to Decide Below the 50 SMA
We have seen some very interesting times in Crude Oil so far this year. We saw a $5 increase in the first couple of weeks, after the killing of Iran's top military man, Soleimani. But the price was quick to reverse down, after there was no war to follow through, apart from an attack from Iran on US bases n Iraq, without casualties.
Oil fell below $50 as a result, but then retraced back up above the 20 SMA (grey). But, after forming an upside-down pin candlestick, Crude Oil reversed down and then came the first crash, after OPEC+ failed to agree on cutting production by 1.6 million barrels/day.
US WTI crude fell below $20, but then retraced up to $29, as OPEC convinced Russia to join in. But Saudis kept flooding markets with cheap Oil, filling container tankers worldwide, which left no room for US Oil and US producers were dumping it for a negative price.
US WTI crude fell close to -$40/barrel, the lowest ever on record. So, US producers were paying to get rid of Oil. But, the price reversed up eventually and US crude climbed above the 20 SMA (grey) on the daily chart. The price approached the 50 SMA (yellow) which was standing at around $28, but the 50 SMA has been providing resistance in the last several days.
It seems like traders are waiting to see how the global economy's reopening will go, after the long shutdown and how the global economy will perform. If the economy rebounds, then probably the rebound in Oil will stretch further up. But, we might also see a pullback to around $20, before the next move higher.