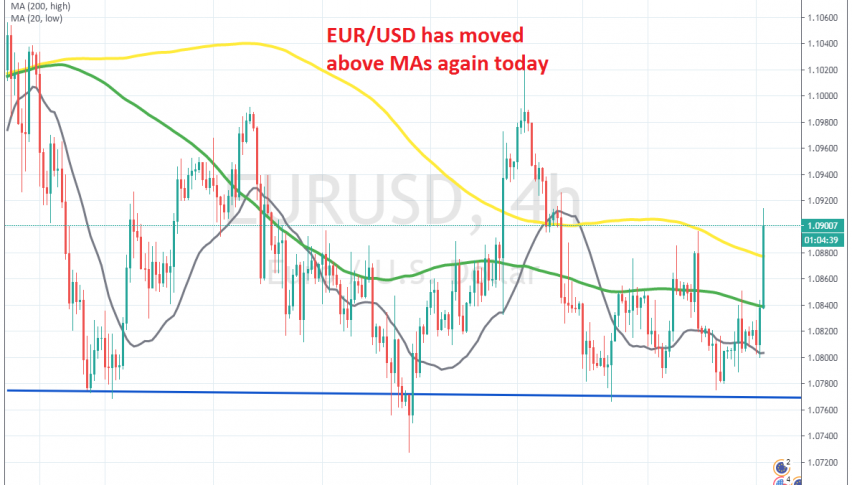 EUR/USD Trying to Decide at the 200 SMA, After Rallying on EU Reconstruction Plan
Earlier today we heard rumours that Germany's Angela Merklel and France's Emanuel Macron would propose a coronavirus reconstruction plan. We don't exactly know how the plan will be but they are already working on a fund for the recovery, similar to the Marshal Plane probably. Although, at just 500 billion, I don't think that's enough. The US is already spending several trillions of dollars. Below are their comments:
Merkel said
We need a European recovery fund, Germany and France discussed that this today
We must act in the European way so that we all get out of this crisis well
Goal is that Europe comes out of crisis stronger
The recovery fund that should give grants, not loans to member states
Fund must be in line with EU law
There is a possibility of EU treaty changes in the longer run, but now it's about agreeing on a short-term measures
It is crucial that EU bonds will be paid back via EU budget, national parliaments will have to give green light
Macron comes out with his statement:
Call for EU public health sovereignty, say objective should be to develop vaccine within EU over the short term
Jointly called for increase of European budget over 1st few years
Call for ambitious, temporary and targeted recovery fund within MFF
Propose to authorize European commission to find recovery by borrowing through financial markets in the EU's name
Recovery fund should be given €500 billion for EU grants to go to hardest hit sectors and regions
Recovery fund will be integrated in decision on EU's own resources with clearly identified volume and expiry date
A quick EU agreement on MFF, recovery fund is necessary
This recovery plan will be supported by commitments from member states to undertake healthy economic policies and reform program
The Euro has surged on this news and EUR/USD is more than 100 pips higher today. This pair climbed above 1.09, but has retreated a little now and is trading around 1.09. I don't understand this rally, because the amount is not anything extraordinary, with what we have seen in recent months from other central banks and governments.