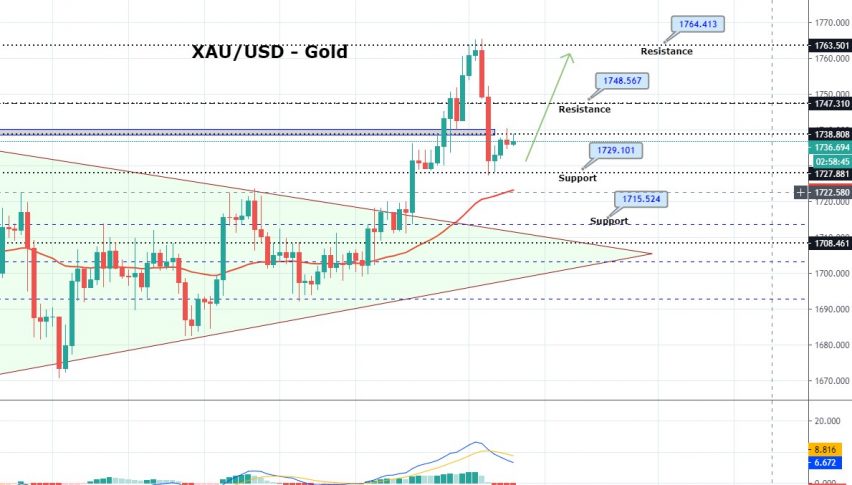 Daily Brief, May 19: Everything You Need to Know to Trade Gold Today
Posted Tuesday, May 19, 2020 by
Arslan Butt
• 3 min read
Good morning, fellas.
The precious metal is on a move as prices closed at $1732.77 after placing a high of $1765.12 and a low of $1727.56. Overall the movement of gold remained bearish throughout the day. GOLD prices ended the day with losses after giving up early gains that had lifted prices towards their highest since 2012. After posting gains for the previous four days, prices fell on Monday due to early positive results from a vaccine of COVID-19, which raised US equity markets and decreased the demand for safe-haven instruments.
The Massachusetts biotechnology company named Moderna has been trying to create a vaccine for coronavirus. It has announced on Monday that the early results from the vaccine were promising from its first human trial. The early data which has not been published in the scientific journal has provided a first look at one of the eight vaccines which have started human testing worldwide.
US equities, along with the Moderna's stocks rose on Monday on the report, which only suggested but did not prove that the vaccine can trigger some level of immunity. Participants who received doses of the vaccine showed a similar or greater number of blood levels of virus-fighting antibodies than those who recovered from COVID-19. This report increased hopes about quick economic recovery and increased the risk appetite in the market, which drove gold prices down from seven year highs.
Furthermore, Fed Chair Jerome Powell said that on Monday that to fight the current economic slump, the central bank still has plenty of ammunition. He added that there were even some of Fed's weapons which it has not yet used. Federal Reserve has been provided with 2.6 trillion dollars to limit the economic damage caused by the coronavirus. Fed has already deployed about 100 billion dollars out of that amount, which is equal to 12% of the whole US economy. Apart from this, the open-ended asset purchases were also made from the Federal Reserve. The Fed can also lower its interest rates to fix up the US economy in need.
Powell acknowledged that the Fed was not out of ammunition by a long shot to fight coronavirus crisis. Powell also said that the US economy might need 3-6 months more of financial help from the government for families and firms to recover. These comments from Powell raised the optimism that the US economy would not fall if the second wave of coronavirus hit it. This supported the US dollar on Monday and dragged the gold prices to post losses.
Gold prices have risen about 14% this year on the back of a wave of rate cuts from Federal Reserve along with other measures to hold its economy from falling because of damage caused by coronavirus pandemic. Data published in the previous week showed that US Retail Sales and Industrial Production both dropped in April due to the impact of COVID-19 over the US economy. However, on Monday, there was no macroeconomic data to be released from the US, so the movement of Gold prices could be attributed to news about the vaccine as well as on Powell's comments.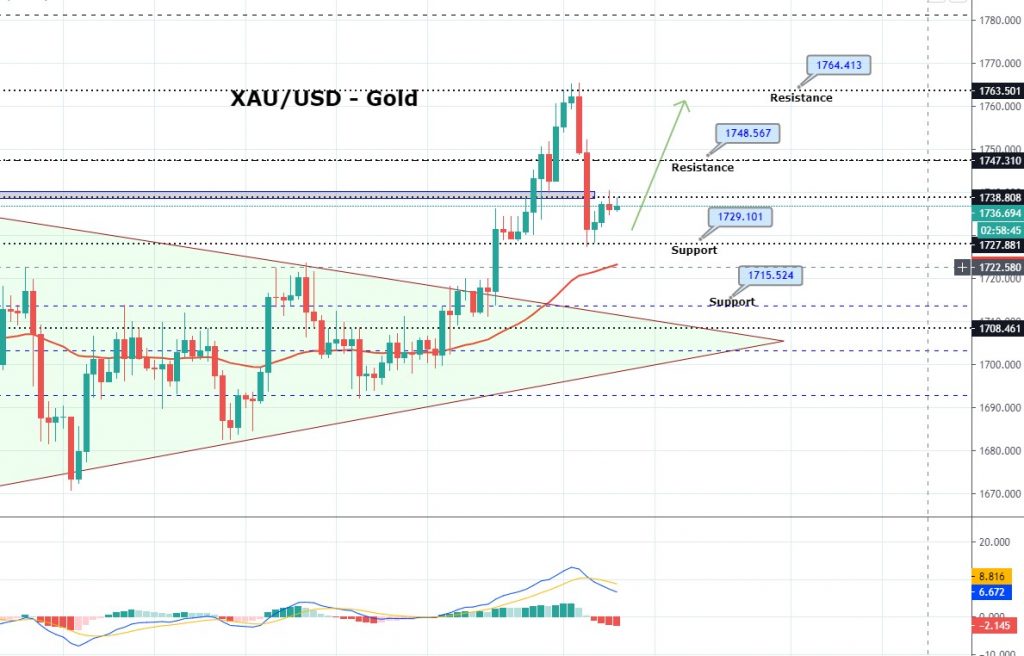 Daily Technical Levels
Support Resistance
1758.20 1771.40
1750.00 1776.40
1745.00 1784.60
Pivot Point: 1763.20
Gold prices continue to trade on a bullish run, and they seem to head towards the next resistance level of 1,770. Overall this marks a 138.2% Fibonacci retracement level, which holds around 1,780 level. On the lower side, the precious metal may find support at 1,756 area and 1,738 area, while the continuation of a bullish trend may lead prices towards previously suggested target levels of 1,770. The 50 EMA and MACD both are supporting bullish bias for gold. Let's keep an eye on 1,763 now to stay bearish below and bullish above this level.
Good luck!