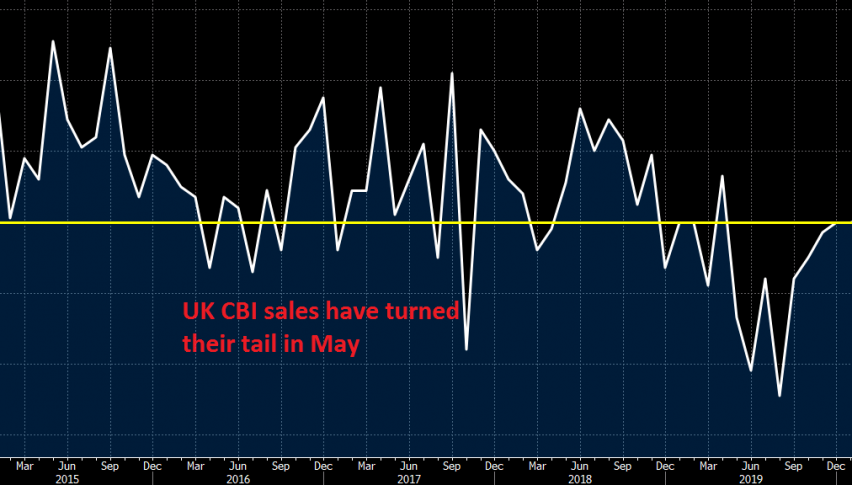 Haldane Thinks the Situation is a Tad Better Than BOE's Expectations
The UK economy dived really hard during March and then even further during April, as the country went into a shutdown. We're still in lockdown mode in May, although some sectors are starting to reopen and the data is not as bad as last month.
The CBI realized sales report for May was released a while ago and it came a bit better than expectations, although it's still negative at -50 points. BOE's Haldane made some comments after the report, saying that the situation is slightly better than expectations from the Bank of England.
Latest data released by CBI – 26 May 2020
May CBI retailing reported sales -50 vs -65 expected
April CBI retailing reported sales -55 points
May total distributive reported sales -63 points
April total distributive reported sales -68 points
Retail sales balance is seen falling further but not as badly as expected, with CBI reporting that supply chain disruptions have worsened since April. The report also shows that over half of retailers are temporarily laying off staff, with 80% reporting cash flow difficulties.
This paints a bit more colour about the situation on the ground in the UK economy. The readings here are an indicator of short-term trends in the retail and wholesale sector of the UK economy.
Comments by BOE chief economist, Andy Haldane
Data coming just a shade better than central bank scenario
UK economy probably shrank by more than 20% in Q2
Surveys show some stabilisation; modest recovery in spending, business sentiment
No one is predicting a sharp bounceback
This is perhaps a V-shaped recovery, but a lopsided V akin to a protracted recovery
Jobs may not return to pre-virus levels until 2023
BOE is reviewing evidence on negative rates
Key issues to consider are consequences on financial sector, economic confidence
BOE has not remotely reached a view on negative rates yet
A bit of new recovery shape being introduced there by Haldane, i.e. lopsided V-shaped. But overall, he doesn't sound too pessimistic and that's a key takeaway. There's no major pushback on negative rates as he just reaffirms that they are talking about it but haven't reached any firm decision on whether to pursue it down the road. I reckon that'll depend on inflation pressures and economic circumstances, with cues from the Fed also one to watch (so far nothing on this yet).