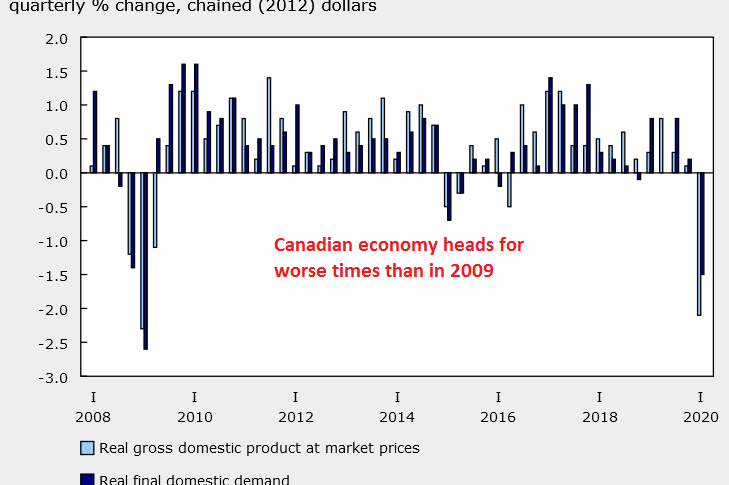 Canadian Economy Takes A Dive in March, With April Expected to Be Worse
The GDP report from Canada was released a while ago. The economy was already weak towards the end of last year and in the first two months of 2020, with February coming flat at 0.0%. But, thecoronavirus outbreak with the shut-down was going to change things for the worse, much worse. For March, the report showed a big 7.2% decline in the GDP, while the economy contracted by 8.2% in Q1. Below is the report:
Canada First Quarter GDP Report
March GDP -7.2% vs -9.0% expected
February GDP stood at 0.0%
Q1 GDP -8.2% vs -10.0% expected
Q4 of 2019 was +0.3% (unrevised)
Q1 GDP -8.2% vs -10.0% expected
-2.1% QoQ drop
Sharpest drop since Q1 2009
Household spending -2.3% in Q1, worst ever
Exports -3.0%
Imports -2.8%
Inventories -$3.7B
There's nothing surprising in this report. Q1 is bad, but Q2 is going to blow away the numbers we see here, especially with so much of Canada still locked down. The CAD has turned quite bearish, declining against the USD in the last couple of hours, since the report was released, considering that the USD is quite bearish itself.
We have some important economic events this week, although crude Oil is under spotlight as China's economy should show a rebound
4 weeks ago