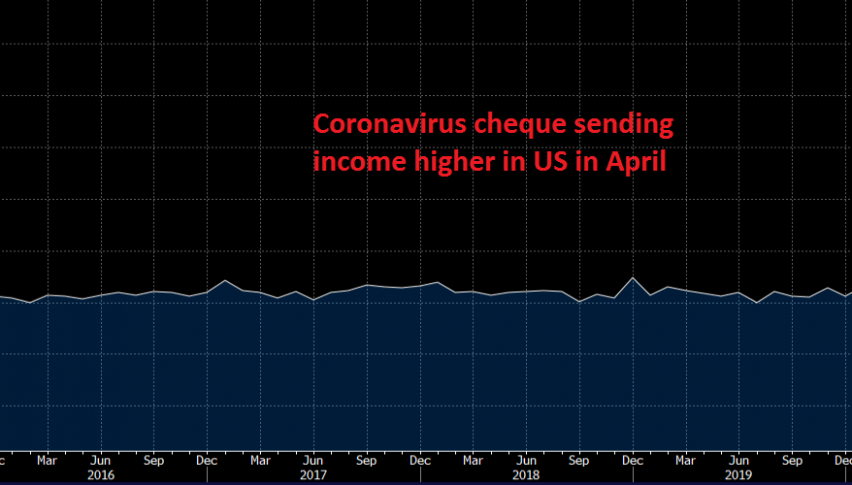 Income "Increases", Spending Falls, Consumer Sentiment Remains Low
There was quite a lot of economic data being released today. It started off with Japanese retail sales, then the German retail sales, followed by the French consumer spending, all of which showed some major declines in April. Inflation fell to just 0.1% in the Eurozone later on, but at least core CPI held up well. The Canadian economy showed a major decline of 7.2% in March, while the numbers from the US were pretty bad as well, despite looking sort of mixed at first glance.
Highlights of the April 2020 personal income and spending report:
April personal spending -13.6% vs -12.8% expected
March personal spending was -7.5
Details:
    Personal income +10.5% vs -6.0% expected
    Prior personal income -2.2%
    PCE deflator m/m -0.5% vs -0.6% expected
    PCE deflator y/y +0.5% vs +0.5% expected
    PCE core deflator m/m -0.4% vs -0.3% expected
    PCE core deflator y/y +1.0% vs +1.1% expected
That personal income number is incredible. It speaks to the skew in additional unemployment benefits. The system was designed so workers would get an additional $600 per week. That put the income received at the national average. The thing is, the workers getting laid off weren't making average wages — they were low-paid employees. So for many, not working has paid much better than working, some as much as double.
US May Consumer Sentiment Report From the University of Michigan
Prelim was 73.7
April final was 71.8
Current conditions 82.3 vs 83.0 prelim
Expectations 65.9 vs 67.7 prelim
1-year inflation +3.2% vs +3.0 prelim
5-10 year inflation +2.7% vs +2.6% prelim
The market is patient with the lack of improvement in May but if the preliminary June number is below 80 then the market is going to start to bury the v-shaped narrative and start to worry about a slog.
On the inflation side, the rise in expectations is notable because it's the highest since March 2016 and a rise from 2.3% in March. There are people keeping a very close eye on inflation expectations. I think it's too soon to move markets but if there's a recovery in 2021, inflation is going to be top-tier headline data.