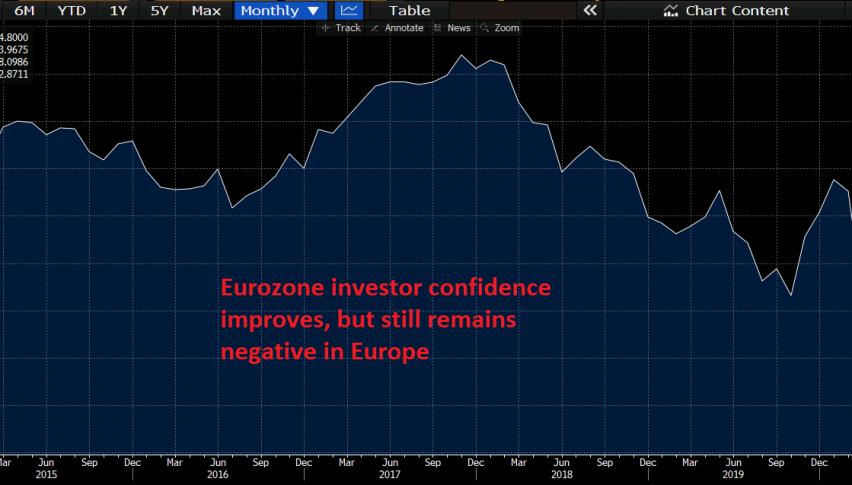 Investor Confidence Remains Negative in Europe
The Sentix investor confidence was week already last year, turning positive and negative form month to month. But, it turned massively negative in March, falling to -17.1 points, as Europe went into shut-down of the economy. In April the confidence fell further to -42.9 points, while improving slightly to -41.8 points in May.
This month, Europe is getting out of the lock-down and the sentiment improved further to -24.8 points, but that's still pretty bad. Below is the Eurozone Sentix investor confidence, as well as the German industrial production.
Eurozone Investor Confidence for April
June Sentix investor confidence -24.8 vs -22.0 expected
April investor confidence stood at -41.8 points
German Industrial Production for May
April industrial production -17.9% vs -16.5% expected
March industrial production was -9.2%, revised to -8.9%
April was expected to be bad and markets were expecting for another bad reading this month. These figures show a deeper than expected contraction and EURUSD ticks down a few points on the release. Not a massive surprise to see poor data here, but German industrial production woes have been a constant source of strain for the last 18 months or so. First US-China trade war induced slowdowns, now COVID-19.
EUR/USD has turned bullish in the last two days, but we decided to open a sell forex signal at parity
5 months ago
The economic situation is worsening every day in Europe as prices keep increasing while an energy crisis is expected in winter
7 months ago