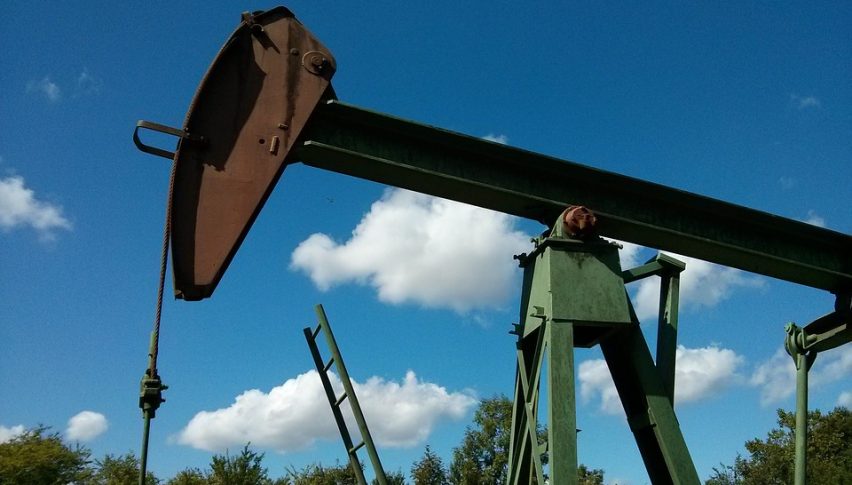 It Will Be Getting Harder for Oil to Climb Higher
Crude Oil has had such a great time in the last two months, following some really weird times in the previous two months. From February to April, crude Oil crashed lower, with US WTI crude first breaking below $40, which signaled the beginning of the crash. The decline continued with sellers breaking below $20 in March as the coronavirus broke out in Europe and the US and countries went into lock-down, while in April US WTI crude broke below $0/barrel and fell to -$37.50, as Saudi Arabia flooded markets with cheap Oil, leaving no storage room for US producers, who were getting rid of it, even if they had to pay Oil tankers to take it away.
But, by the middle of April we saw a reversal higher and crude Oil has come back from the abyss. The trend has been totally bullish for the last two months, sending crude Oil from around -$40 to above $40 at the end of last week, as traders realized that this wasn't going to be the end of the world. But, this week we are seeing buyers have difficulty keeping the bullish trend going. In fact, they couldn't push above that big round level this week,which is a sign that buyers are already exhausted and at some point WTI crude retreated to $34.50. So, the upside is not that straightforward for Oil any longer after this epic comeback and there are several reasons that suggest the end of this trend, if not a bearish reversal lower.
The Rally Has Exhausted Buyers
The crash in US WTI crude started when sellers broke below the $40/barrel level back in the second week of March. Buyers have been in charge in the last two months and have pushed nearly $80 higher since -$37.50, which seems to have exhausted them, shown by the failure to push above $40 this week. Besides that, they already broke that level last week, which was the target, since the break of it to the downside in March was the beginning of the crash. When Oil was in negative territory or below $20, buyers had a strong reason to buy, since Oil wasn't going to stay that low for too long, but now that we are close to $40, they don't have many reasons to continue to be long.
A pullback to $20 is on the cards
Coronavirus Not Over Yet
The breakout of the coronavirus in Europe and North America was the first reason for crude Oil to begin the long journey south back in late February, then the lock-down added more fuel to the downtrend, apart from Saudis flooding markets with cheap Oil. After three months of house arrest, the large economies of the globe are starting to re-open and recover. But, as the media suggests, the danger is not over yet. The virus, although weakened, is still among us and it might return in Autumn, as predicted. people might be forced to get locked inside once again, which would give the global economy another blow, so I hope not. But, this is a danger and in recent days we have seen an increase in case in some countries.
Fragile World Economy
The global economy has seen the most severe contraction since the Great Depression in the "30s during these lock-downs, which raise the question if they were really necessary. They might have done more harm in the long term for economical reasons than the virus itself, not taking into account the deaths due to domestic abuse, drug and alcohol addiction which have surged during this lock-down period, depression etc. We have seen some encouraging economic data recently, but that was obvious after such a major contraction and the major economies are still in the hole. They are climbing out of the hole, but it will take some time and we will still see a deep recession this year. The recovery is not guaranteed and even if it happens, it will take a long time.
Oil Producers Itching to Resume Pumping and Selling As Normal
Oil producing countries have cut the output considerably after the OPEC+ deal, but they are mostly poor countries, relying on revenue from Oil exports. They didn't even want to cut production in the first place, so they are itching to start pumping up Oil again and return to market as normal. We heard rumours earlier this week that the Saudis weren't too eager to extend the production cuts. Poorer countries like Iraq, Iran, Nigeria, Libya etc are even more eager to resume business as usual. OPEC+ eventually agreed to postpone the production cut until the and of July, but that's not too far away. Besides that, US shale producers will increase production the higher Oil climbs, so Oil will be flooding again pretty soon.
All the points above point to the end of the bullish momentum for crude Oil, at least for now. There's a slight chance that we might see a strong recovery in Europe and America if coronavirus recovery funds work like some kind of Marsha Plan and all countries turn on their engines in full. But, the threats of more lock-downs from the media and certain politicians and the protests in Europe and particularly in the US, with all the looting and destruction, will make it difficult for such an economic recovery. So, I think that the bullish momentum won't last for too long, if it will at all.