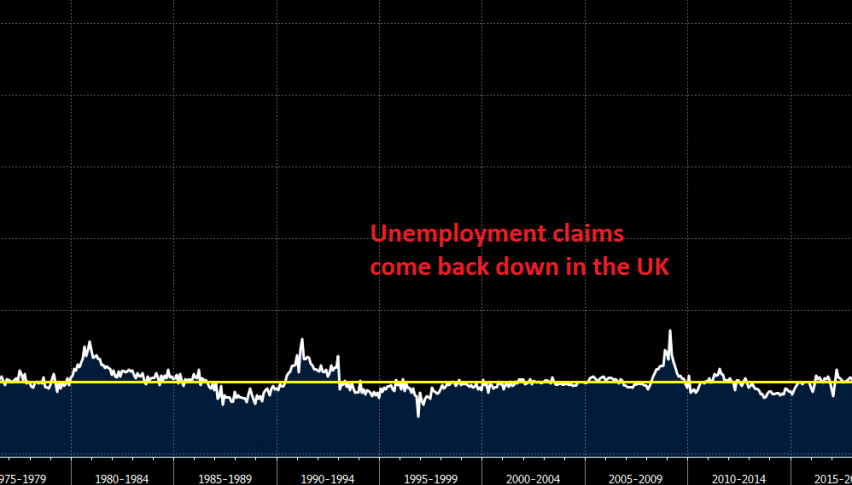 UK Unemployment Rate Remains Low Despite the Increase in Jobless Claims
Unemployment claims have been surging all over the world and they jumped higher by more than 1 million in April, while coming at above 500k for May, as this morning's employment report showed. But, the unemployment rate has remained unchanged throughout this time at 3.9%. On the other hand, earnings have declined considerably, falling to just 1%.
May's Data Released by ONS – 16 June 2020
May jobless claims change 528.9k vs 856.5k prior
April jobless claims 856.5k; revised to 1,032.7k
May claimant count rate 7.8%
April claimant count 5.8%
April ILO unemployment rate 3.9% vs 4.7% expected
March unemployment rate 3.9%
April average weekly earnings +1.0% vs +1.3% 3m/y expected
March average weekly earnings +2.4%; revised to +2.3%
April average weekly earnings (ex bonus) +1.7% vs +1.9% 3m/y expected
PMay average weekly earnings (ex bonus) +2.7%
Jobless claims aren't as high as they were in April (peak of the lockdown and fallout from the virus outbreak), but they are still relatively elevated from a historical perspective as seen by the chart. That once again reaffirms the impact of the virus outbreak and the weaker wages data will only serve to create more of a headache for the BOE as that will weigh on inflation. The pound is holding steady on the release with cable seen at 1.2660 still, a little over 0.4% higher on the day amid a weaker dollar on the better risk mood.
GBP/USD was rejected by the 50 SMA early in December, but is quickly back at it as the USD resumes decline on softer FED rhetoric
2 months ago