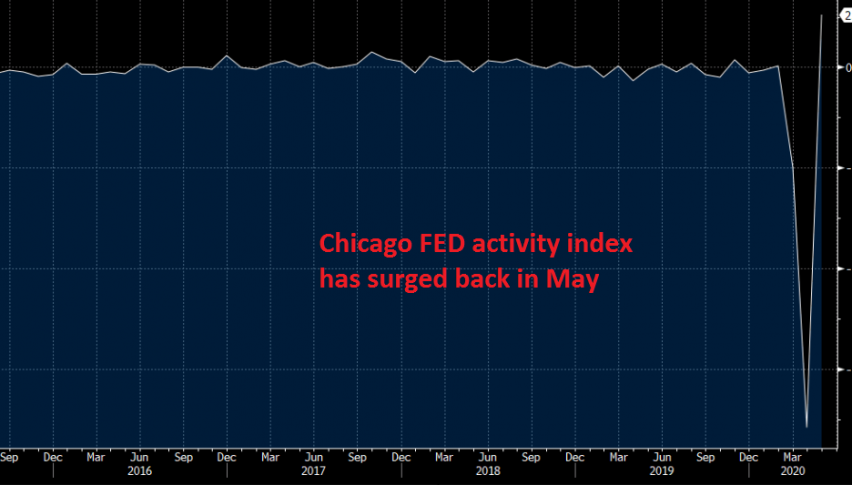 Chicago FED National Activity Completes the V-Shape Recovery in May
The economic activity fell to the slowest pace ever during March-April in US and most of the globe, as the lock-down from coronavirus halted everything. As a result, all economic indicators dived lower, with the Chicago FED  falling to -16.74 points, which was revised later to -17.89 points. But, today's report showed a jump to 2.61 points, which completes the v-shape recovery, bringing it above the pre-covid levels.
The National Metric from the Chicago FED
"Led by improvements in production- and employment-related indicators, the Chicago Fed National Activity Index (CFNAI) rose to +2.61 in May from -17.89 in April. All four broad categories of indicators used to construct the index made positive contributions in May, and all four categories increased from April. The index's three-month moving average, CFNAI-MA3, moved up to -6.65 in May from -7.50 in April."
Meanwhile, the $600 weekly US unemployment bonus money runs out at the end of July so that's somewhat of a hard deadline for another aid bill. Talk has ranged from less than $1 trillion (McConnell) to more than $2 trillion (Navarro). The House has already passed a $3 trillion bill. The size and composition of the bill will go a long way towards sustaining or breaking the level of risk appetite in the market. Kudlow also said a while ago that the stimulus deal is 'highly likely' this summer but the size is undetermined. hey will have no choice but to introduce another bill, starting in August.