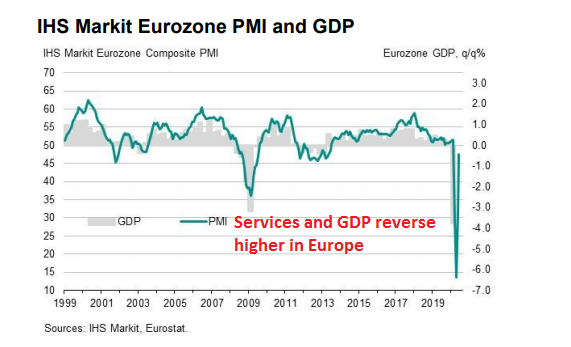 Services and Manufacturing are Climbing Up All Over Europe
Manufacturing was already in difficulty in Europe throughout 2019 due to the trade war between US and China. During the lockdown months manufacturing activity dived further, while services fell to the lowest levels ever everywhere. In March services fell to 29 points in the Eurozone, and in April it fell further to 12 points.
In May services increased to 28 points again, while today they came at 47 points, which is close to the 50 point break-even level. Next month I assume services will jump again, as countries open in full and international travel also begins. Below are the services and manufacturing data from Europe for June:
Eurozone June Services and Manufacturing Data
June flash services PMI 47.3 vs 41.5 expected
May flash services was 30.5
Manufacturing PMI 46.9 vs 45.0 expected
May manufacturing PMI 39.4
Composite PMI 47.5 vs 43.0 expected
May Composite PMI 31.9
The beats have been predicated by the French and German releases earlier – more so the former – as we see the euro area economy continue to display better conditions relative to the previous few months, finding some sense of stabilization.
Looking at the details, output declined in both services and manufacturing again but the rate of contraction was reported to be markedly reduced for a second month running. New business continued to decline for a fourth month, with backlogs of orders continuing to mount.
Meanwhile, overall sentiment continues to improve amid the easing of lockdown measures but concerns are still notable in the labour market.The Euro made a bullish move after that, with EUR/USD heading for 1.13 again now.
The US consumer is softening as intertest rates go up, which is a factor for the USD retreat and for the FED to stop hikes
2 days ago