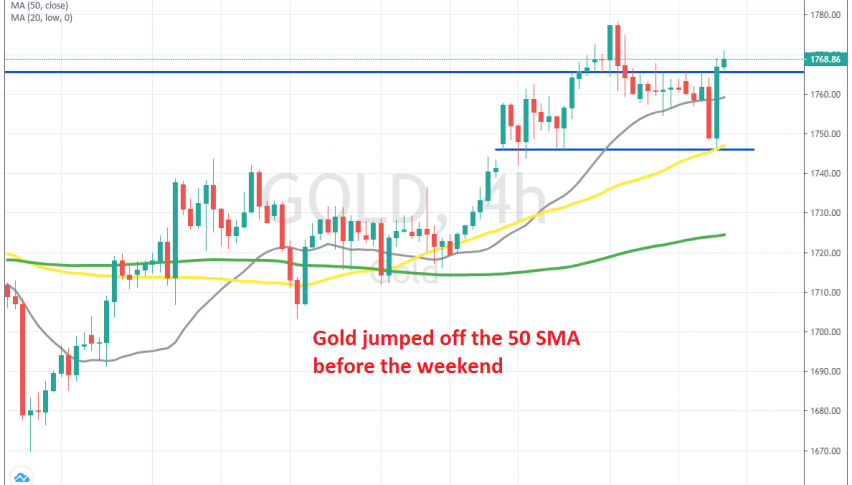 The Jump Higher Ahead of Friday's Close Shows the Trend Remains Bullish in Gold
With uncertainty being extraordinarily high so far this year, safe havens such as GOLD , the JPY and the CHF have been in great demand. Tensions in the middle East between US and Iran started the year on the wrong foot for financial markets, then came the coronavirus in China, which spread across the globe, sending shivers in stock markets. Although, the lock-downs were what gave the global economy a killing blow.
In late February and early March we saw a deep dive lower, worth around $250, as panic set in and traders turned into the USD as a global reserve currency. But, the decline ended and the bullish trend resumed again, sending Gold higher to $1,745 by the middle of April, then to $1,765 by the middle of May and to $1,780 on Wednesday this week.
But the price retreated back down to the $1,750s and trader in a tight range around there. The 20 SMA (grey) was acting as support on the H4 chart for a few trading sessions, as traders were uncertain which direction to go, with the big re-opening underway, but it is not going as it should have been. Protests are still going in the US which threaten the economic recovery after three months in isolation. Small and medium businesses were in great difficulty already after the lock-down, now they are bankrupting and closing doors for good in troubled areas.
So, Gold was trading above the 20 SMA on the H4 chart, being supported by that moving average. Yesterday though, we saw a break to the downside, after the personal spending report released yesterday showed that spending jumped higher during May. Gold lost around $15 after the break of the 20 SMA, but the 50 SMA held well as support. Gold bounced off the 50 SMA and climbed around $25 higher, moving above the 20 SMA again.
The economies of the globe are re-opening, which should send Gold lower. But Gold jumped higher before the weekend, which is a sign that Gold traders are fearful. Anything could go wrong now, while the recovery is very fragile and in the first steps. Therefore, Gold sellers should be careful because the upside momentum hasn't ended, which leaves the trend still bullish. We will try to buy pullbacks such as he one we saw on Friday, as long as the trend remains bullish.
Safe havens such as Gold and the JPY have been taking advantage of the financial troubles with the ban king system and lower FED rate odds
1 day ago