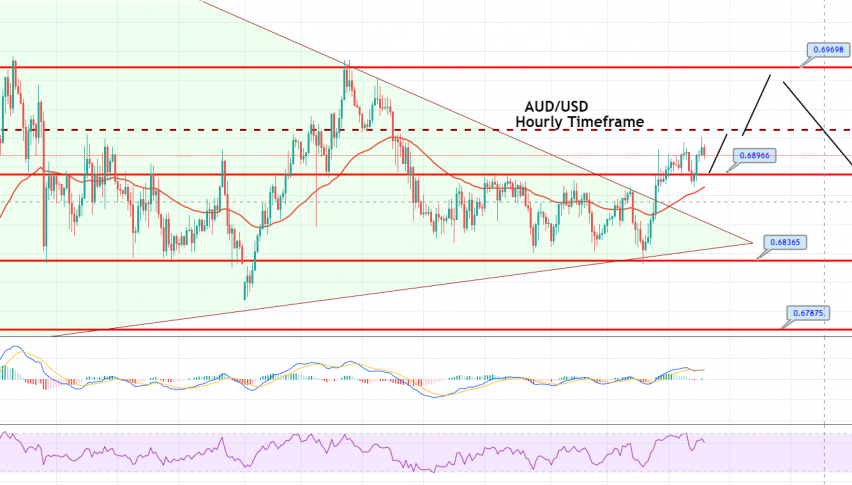 AUD/USD Violated Symmetric Triangle Pattern – Quick Trade Plan!
Posted Wednesday, July 1, 2020 by
Arslan Butt
• 2 min read
What's up, traders?
The market volatility is fading as we head closer towards the U.S. Open. We may have a trade-in Aussie soon, due to the violation of the symmetric triangle. The AUD/USD closed at 0.69026, after placing a high of 0.69119 and a low of 0.68325. Overall, the movement of the AUD/USD pair remained bullish throughout the day.

On Tuesday, the AUD/USD pair extended its previous day's gains and rose for the second consecutive day, on the back of optimistic comments from RBA's deputy governor, Guy Debelle, and China's upbeat PMI data, along with the broad-based weakness of the U.S. dollar.

The Deputy Governor of RBA, Guy Debelle, said that the Australian economy was doing better than initially feared, due to the coronavirus recession. However, RBA warned that the pandemic's financial scars would last for a long time, in the shape of support from government and interest rates. He said that, despite the better signs for the economy, the country was still facing a historically substantial decline.

On the other hand, the Chinese Manufacturing PMI for June surged to 50.9, from the expected 50.4, indicating an expansion in China's manufacturing activities, which raised the China-proxy Aussie on Tuesday, helping the AUD/USD pair to post more gains. The Non-Manufacturing PMI from China also surged to 54.4, from the expected 53.3, supporting China-proxy Australian dollar, which raised the gains of the AUD/USD pair.

From Australia, at 6:30 GMT, the Private Sector Credit for June dropped to -0.1% from the expected 0.1%, weighing on the Australian dollar and limiting the gains of the currency pair AUD/USD.

On the U.S. side, the Chicago PMI decreased to 36.6 from the forecast 45.0, weighing on U.S. dollar, which added further to the gains of the AUD/USD pair on the ending day of the month. Other than macroeconomic data, the comments of Federal Reserve Chairman, Jerome Powell, also weighed on the U.S. dollar when he said that the road to U.S. economic recovery was uncertain. This also weighed on the U.S. dollar, but helped the AUD/USD pair to gain traction and post gains.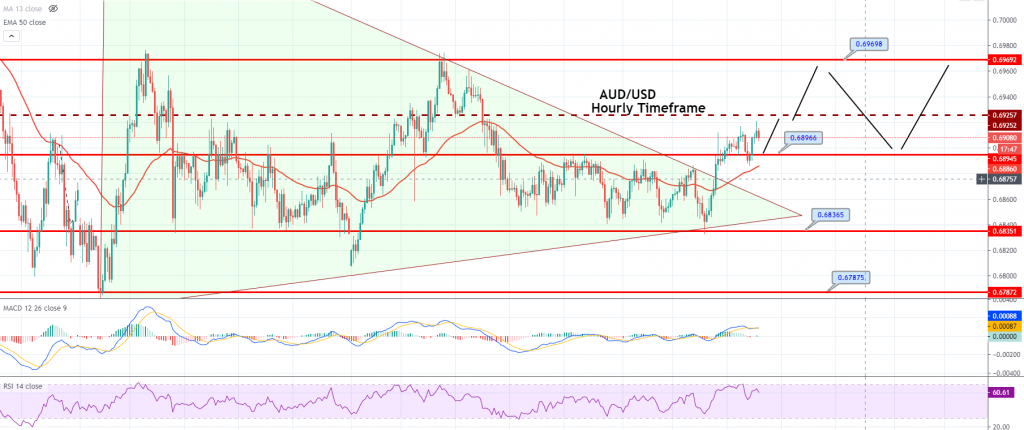 Daily Support Resistance
0.6853 0.6934
0.6802 0.6964
0.6773 0.7015
Pivot Point: 0.6883

The pair is trading with a bullish bias, and facing resistance at the 0.6917 level. Above this, we can expect AUD/USD prices to go after the 0.6975 level, while support holds at 0.6845. The buying trend seems stable today; therefore, we should look at buying trades over 0.6885 today. Good luck! 
The US consumer is softening as intertest rates go up, which is a factor for the USD retreat and for the FED to stop hikes
23 hours ago