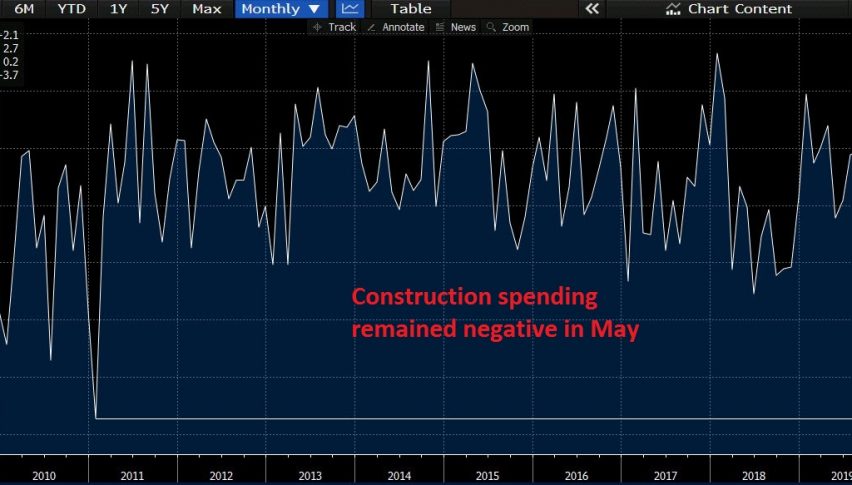 Construction Spending Keeps Declining in the US
Today we had some positive reports being released form the US, first the ADP non-farm employment which showed a 2.37 million increase in employed people during June, while the report for May was revised higher from -2.76 million to more than 3 million. But, the construction spending kept declining, although that report is still for May.
US Construction Spending for May 2020
US construction spending for May 2020 fell by -2.1% vs. 1.0% estimate.
Prior month was revised lower to -3.5% from -2.9%
residential construction fell -3.9% vs. -5.0% last month
nonresidential fell -0.9% vs. -2.5% last month
private construction spending fell -3.3% vs. -3.8% last month with residential falling by -4.0% from -5.1% and nonresidential falling by -2.4% vs. -2.3%
public construction spending rose by 1.2% vs. -2.7% last month. Residential public spending increased 3.6% vs. -2.7%. Nonresidential public spending increase 1.2% vs. -2.7% last month
Although lower than expected the number is for May when uncertainty was still fairly high.  Nevertheless the revision to the prior month nearly reached the 2011 a low of -3.7% (see chart below).
SF Fed's Mary Daly is a nonvoting member on the Federal Reserve Board.  She is speaking in a virtual economic forum
Fed's Daly – speaking in a virtual economic forum – is saying:
she would be hesitant to call recent positive signs a recovery
she sees no V-shaped recovery
sees US unemployment staying above 10% through at the end of the year under her best case scenario
if we can get virus under control, the recovery can take just 4 or 5 years
virus path to dictate pace at which unemployment declines
sees unemployment staying elevated even as workers returning
we are in a really uncertain place right now
consumer demand remains much weaker than pre-pandemic
Comments are less positive than the market is expecting. A 4-5 year recovery is certainly not what the market expects or wants (nor the Trump administration into the November election).