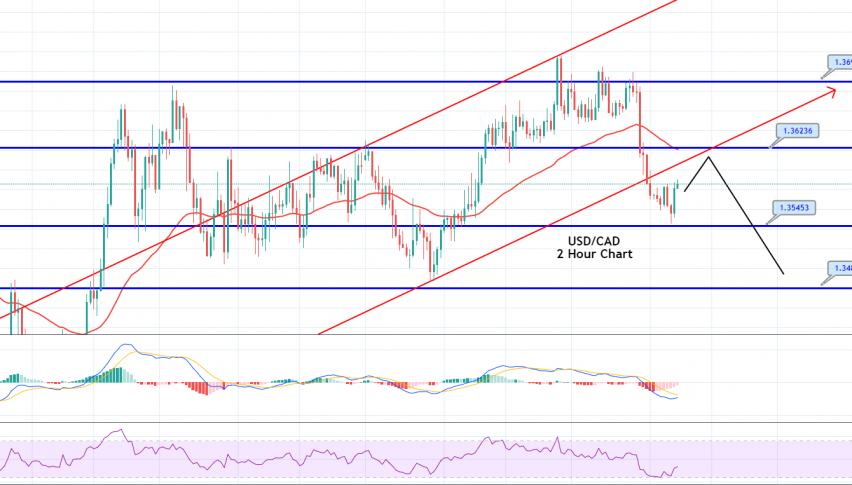 Oversold USD/CAD Recovering to Test 1.3600 – Get Ready to Sell!  
Posted Wednesday, July 1, 2020 by
Arslan Butt
• 2 min read

The USD/CAD pair closed at 1.35749 after placing a high of 1.36993 and a low of 1.35698. Overall, the movement of the USD/CAD pair remained bearish throughout the day. After Jerome Powell's speech, the rising prices of WTI Crude oil and the broad-based weakness of the US dollar boosted the losses of the USD/CAD pair on Tuesday. The pair lost its gains of the previous three and half day's on Tuesday, dropping near the 1.35600 level.  On the data front, at 17:30 GMT, Canada's GDP for April showed a contraction of 11.6% against the forecast contraction of 12.5%. The closely-watched Canadian GDP showed that the Canadian economy shrank less than expected in April, which boosted the Canadian dollar and weighed on the USD/CAD pair.

On the other hand, at 18:45 GMT, the Chicago PMI from the US decreased to 36.6, from the expected 45.0 in May, weighing on the US Dollar, which was added in the downward trend of the USD/CAD pair on Tuesday.

At 19:00 GMT, the CB Consumer Confidence in the US for May showed a surge to 98.1, from the expected 91.6, lending support to the US dollar, thereby keeping a lid on additional losses in the USD/CAD pair. The crude oil prices reached a level above $40 per barrel on Tuesday, amid increased geopolitical tensions and a second wave of the coronavirus. The conflicts between the US and China, China and India, the US and the EU/UK, and North and South Korea remained in the headlines and continued to support the WTI Crude prices.

Furthermore, the renewed lockdown restrictions in Anxin Country near Beijing, in an attempt to stop the virus spreading within the capital, raised fears amongst traders. Some states in the US, including Arizona and Houston, also imposed new lockdown restrictions, to control the spread of the virus and the second wave of COVID-19. This also added in the WTI Crude oil prices, which made commodity-linked Loonie stronger and dragged the USD/CAD pair further down.

The US dollar was also weak in the late trading session, due to comments from Federal Reserve Chairman Jerome Powell. According to Powell, the US economic outlook was better, due to positive data, but the road to recovery was uncertain and gloomy. He said that the second outbreak of the virus had made the consumer less confident regarding economic activity and that recovery was not possible given the lack of consumer confidence. A weaker US dollar added to the losses of the USD/CAD pair on Tuesday, dragging it below the 1.35690 level.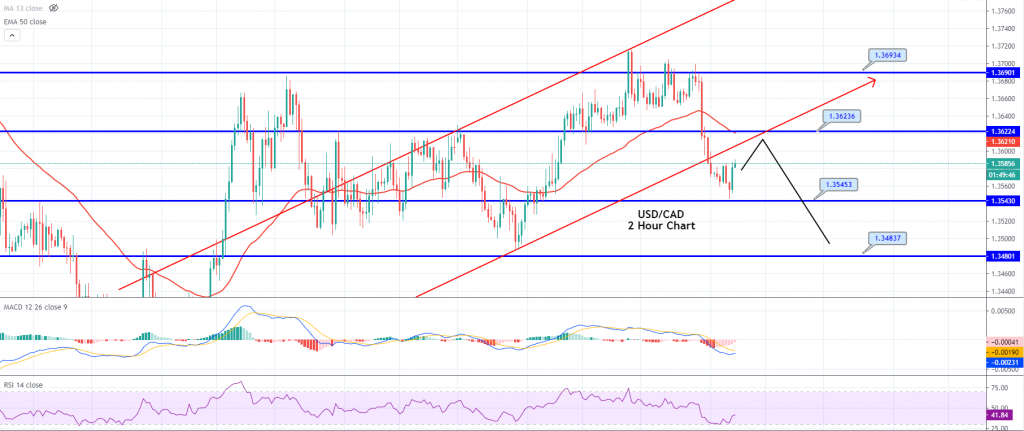 Daily Technical Levels
Support Resistance
1.3529 1.3662
1.3482 1.3748
1.3396 1.3795
Pivot Point: 1.3615

Technically, the AUD/USD pair is holding in an oversold zone, at the 1.3545 level. The pair is soaring towards the 1.3523 resistance area and has potential for a bullish bias, as sellers appear to be exhausted. The RSI and MACD are both heading north and supporting a bullish bias for now, but later today, we can expect the Canadian dollar to show us sales below the 1.3636 level. Let's wait for the market to test the 1.3636 level before taking a sell. Good luck