Wall Street Closed In Observance Of Independence Day
U.S. stock markets are closed today in observance of the July 4th Independence Day holiday. Subsequently, it's crickets on Wall Street with traders hitting the road to enjoy some sun and the three-day weekend. The forex and cryptocurrency markets remain open, although there isn't much to report. Tight daily ranges are the rule as liquidity is limited.
Holiday sessions are a great time to take a step back and gain some perspective. Here's what we know going into the second half of 2020:
The COVID-19 pandemic remains the number one market driver.

As of now, Trump's reelection bid is in doubt. Oddsmakers are listing Trump as a

6/5 underdog

to win about 120 days out from the election.

Gold and safe-haven values remain strong.

Oil has roared back from all-time lows.

The USD is fading vs the majors.

The U.S. equities indices are within 12% of their all-time highs.

Led by the FED, central banks around the world remain committed to massive QE.
If you add those things up, the picture on Wall Street is murky, at best. The possible scenarios that may transpire from now until New Year's Eve are countless. Make no mistake ― the coming five months pose the most uncertainty in modern world history.
No Matter What, Wall Street Likes Risk
Below is a look at the monthly chart for the Dow Jones Industrial Average (DJIA, DOW). It gives us a look at U.S. large caps from 10,000 feet, but provides surprisingly little perspective. Basically, we are in the midst of unprecedented volatility and still face more questions than answers.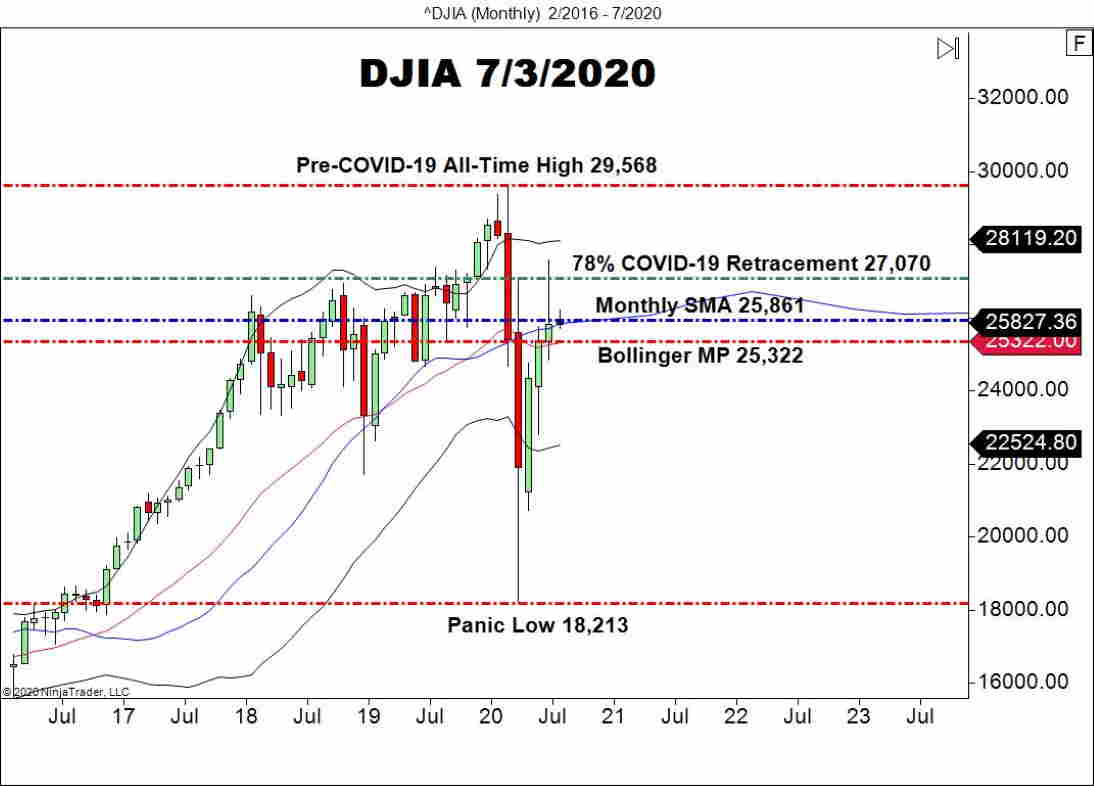 Here are two key long-term numbers for the DJIA moving forward:
Overview: Truthfully, no one really knows what is going to happen during Q3 and Q4 of this year; not Wall Street, not the FED, and especially not the mainstream media. At this point, all we can do is take it one day and one trade at a time ― the future will take care of itself.