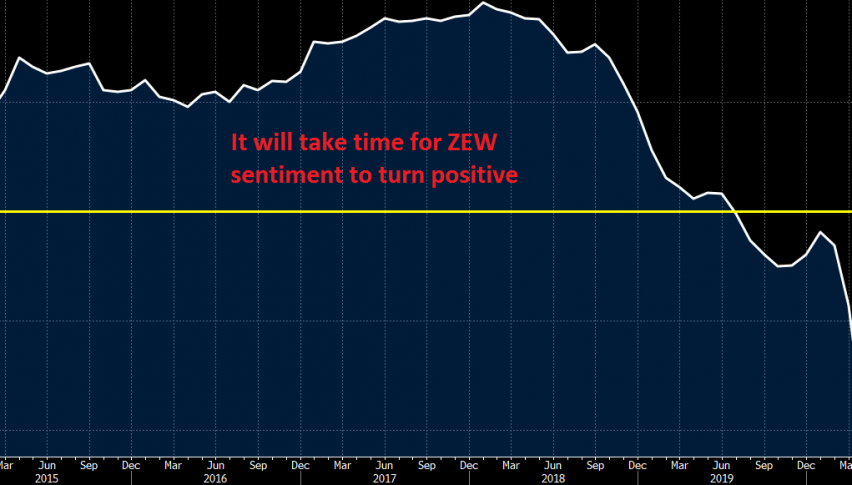 Zew Economic Sentiment Remains Deeply Negative in Europe
The economic data started showing some improvement in the global economy during the last two months, as the shut-downs ended and the economy started to recover. But, the recovery will take time, so it won't be a V-shape recovery like many had hoped for. Some sectors of the economy have recovered quite fast, but others are taking time.
The sentiment will surely take time to recuperate among investors and consumers, will all the threats of more lock-downs. The German and the Eurozone ZEW economic sentiment for June showed a slight improvement but it remains deeply negative.
Germany July ZEW Economic Sentiment
July ZEW survey current situation -80.9 points vs -65.0 expected
June ZEW current sentiment -83.1 points
Expectations 59.6 points vs 60.0 expected
June Expectations 63.4 points
What stands out in this report here is that any rebound in economic sentiment remains tepid at best and while expectations are still elevated, they have dropped off slightly – a hint that optimism about the future is becoming more measured.
On the latter, it would be a focal point moving forward as that will more or less give an idea about the pace of the recovery and this early stutter isn't all too encouraging.
ZEW Commentary
Outlook for German economy largely remains unchanged compared to June
After a very poor Q2, experts expect to see gradual increase in GDP in 2H 2020
The headline refers to the expectations reading in the survey earlier, after some budding optimism seen in the earlier months. This pretty much sums up economic sentiment at the moment within the German – and mostly the euro area – economy i.e. hopeful that the outlook will turn better gradually but current conditions remain subdued still.