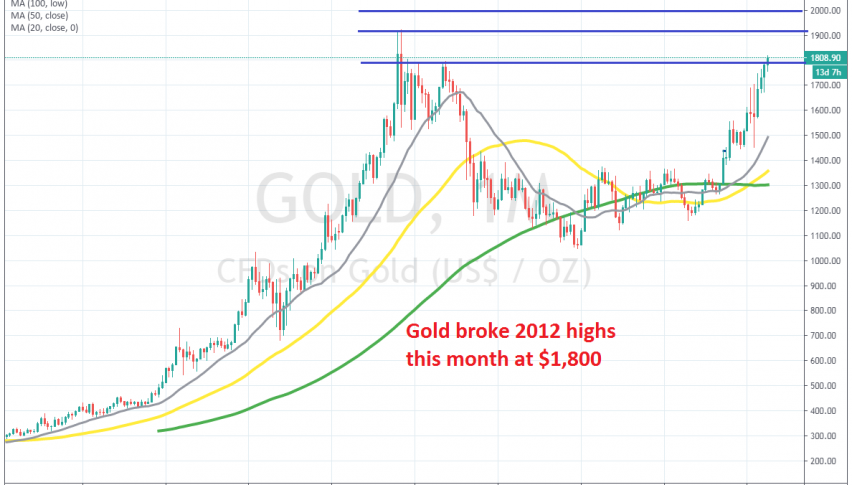 Gold Heads For All Time High As A Safe Haven, As Global Uncertainties Continue
Gold, like the CHF and the JPY is a safe havens assets. As such, the rick sentiment is a big factor determining the direction and the price of Gold. But unlike the JPY and the CHF, Gold is not affected by central banks. Te Swiss National Bank (SNB) for example keeps intervening in markets constantly, weakening the CHF, particularly against the Euro. So, Gold is not affected much by other factors rather than the market sentiment.
So, during times of trouble like now, Gold turns bullish. The monthly chart is a good example of that. Gold turned bullish after the 2008 global financial crisis and climbed around 300% higher until late 2011, as the global economy fell in recession and remained weak until then, while the uncertainties were pretty high.
But, the bullish momentum ended, when markets realized that the economic crisis was over and the global economy was recovering. Gold pulled back lower and traded sideways, consolidating inside a range until 2019. That's when the trade tariffs from the US started hitting and the sentiment got dented. The global economy started weakening and as a result, Gold turned bullish again.
But, the big surprise was yet to come, with the outbreak of coronavirus this year, which pressed the panic button on. Risk sentiment was turned off, while traders ran into safe havens, just in case the world ended. As a result, Gold surged again and is trading around $300 pips higher so far this year, with the intention of climbing higher, judging by the monthly chart above.
This month Gold broke above 2012 highs, which stood just below $1,800 and now buyers are eyeing the 2011 highs at around $1,920. Buyers seems in total control now, so that level doesn't seem to far away. Above that is the big round level at $2,000. But, with the coronavirus apocalypses still looming over our heads, as the media suggests and as we head into US elections, I think that the buying pressure will remain strong and probably get stronger. So, even $2,000 doesn't seem to far now. We will try to pick retraces down in Gold, but in the smaller time-frame charts, such as the daily and the H4 chart.