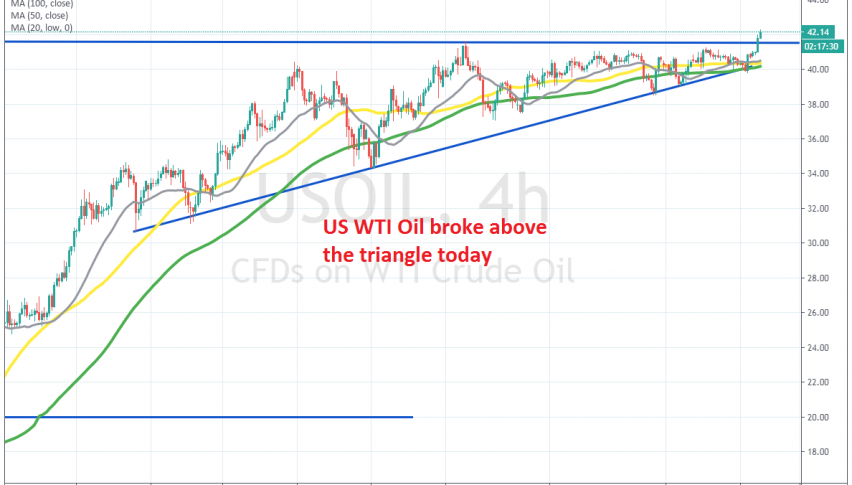 Oil Breaks Above Previous Highs, As Sentiment
Crude Oil has been bullish since it reversed up by the middle of April, following the deepest crash ever, which took US crude Oil to -$40, as Saudis flooded market with cheap Oil. But, the Oil market didn't collapse and the US producers found storage place elsewhere eventually and crude Oil climbed higher.
The economic rebound during he reopening hasn't been exactly what was expected, but the sentiment in the Oil market has improved and WTI crude Oil has been bullish for three months now. As a result, US crude Oil broke above $40 at the beginning of June.
Although, the price had formed a top at $41.50s and crude Oil hasn't been able to push any higher for about two months. Some traders were thinking that this might be the top for the time being, before a pullback lower. But the deep pullback never happened. An ascending trend line formed in Oil, connecting the bottoms. yesterday we saw a final pullback, but the trend line held again, this time aided by moving averages.
The EU approved the coronavirus recovery fund last night, which improved the sentiment, sending risk assets such as crude Oil higher. Now, US WTI Oil is more than $2 higher and it seems pretty bullish. Now, the [previous resistance at $41.50 will likely turn into support for crude Oil.