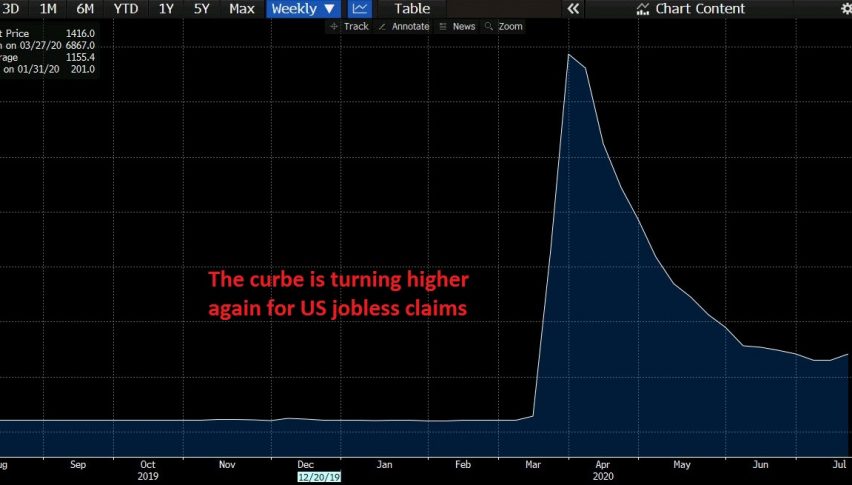 Is US Recovery Flattening, As Unemployment Claims Increase Again?
US unemployment claims surged in the US during March and April, reaching to 6 million weekly and to around 40 million unemployed people. Jobless claims cooled off eventually, falling to 1.3 million in the second week of July. The decine was already slowing considerably in recent weeks, while today's report showed that claims rose again last week.
This is not a good sign, showing that the recovery might be slowing or even flattening out in the US. New York FED's Dudley is also worried about this and today's number's confirm his worries.
US initial jobless claims and continuing claims
initial jobless claims 1416K vs 1300K estimate.  Prior week revised to 1307K from 1300K previously reported
4 week moving average for initial claims 1360.25 vs. 1376.75K last week
continuing claims 16197K vs 17100K estimate. Last week 17304K vs 17338K previously reported
4 week moving average for continuing claims 16197K vs 17304K last week.
The streak of 15 consecutive weeks of initial claims decline has been snapped.  Totals of 1.3 million – 1.4 million is still frightening. US stocks are giving up some of their pre-opening gains. The major indices are implying near unchanged levels for the 3 major indices currently.
Ex New York Fed Pres. Dudley speaking on Bloomberg
US economic recovery is flattening out
Fed tools are limited, main focuses fiscal policy
Stock market is high because Bond yields are low
Low yields reflect expectations for accommodative Fed
Fed could extend the ration of bond purchases