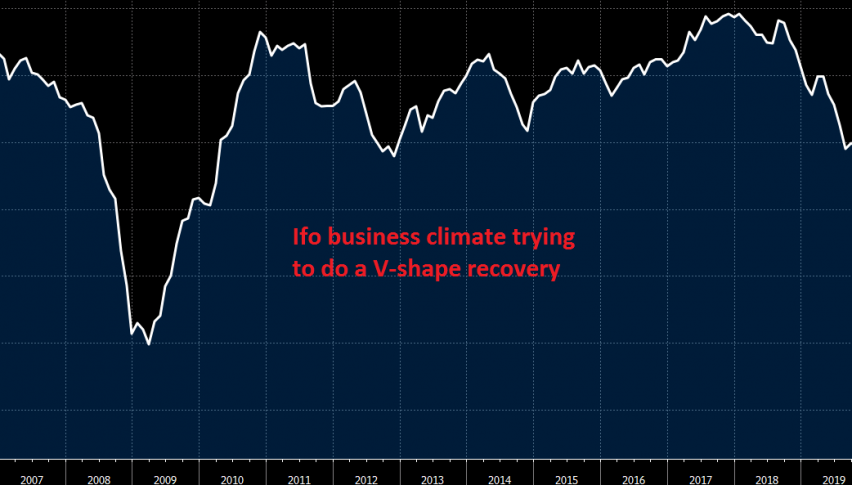 Optimism Gradually Return in Europe, As Business Climate Improves
The business climate deteriorated during the lock-down months in Germany, as it did all across the globe. German Ifo business climate indicator fell from above 95 points to below 75 points, which was the lowest level in ever, even lower than during the 2008-09 crisis. But in May in started improving, increasing to 79.5 points ant to 86.2 points in June, which was revised a tick higher today to 86.3 point. Today's report showed another improvement in the sentiment, so the situation seems to be heading in the right direction. Below is the report for July:
German Ifo Business Climate Report, Released by Ifo – 27 July 2020
July Ifo business climate index 90.5 points vs 89.3 expected
June Ifo business climate index 86.2 points
Expectations 97.0 points vs 93.4 expected
June expectations 91.4 points
Current assessment 84.5 points vs 85.0 expected
June current assessment 81.3 points
Slight delay in the release by the source. The headline beats estimates slightly and there are continued improvements in the expectations and current assessment portion. This feeds into more optimism of a rebound in Q3 but once again, tells little about how things are going to be later in the year as the economy adjusts to the "new normal".
EUR/USD
keeps little changed around 1.1700, initially but the release here certainly does give something for euro bulls to chew on if they would want to in terms of near-term expectations on the recovery in the euro area.
Comments by Ifo Economist, Klaus Wohlrabe
Optimism is gradually returning
Ifo survey highlights good start to Q3
Ifo sticking to forecast of Q3 German GDP growth of 6.9%
Business morale certainly took a better turn to start Q3 and it basically reaffirms a gradual and step-by-step recovery in the German economy – similar to the rest of the region as well. But it will be more interesting to observe if the pace of the recovery can be sustained later in the year as the world adjusts to the "new normal" conditions.