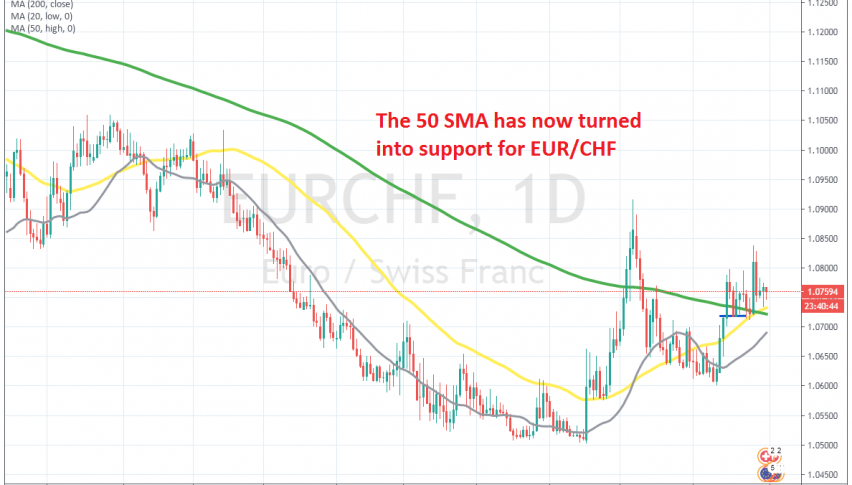 EUR/CHF Bounces Off Moving Averages on the Daily Chart
EUR/CHF used to trade on a bearish trend for about two years, as safe havens kept climbing due to the US-China trade war. The trade war was keeping the market sentiment negative, pushing safe havens such as the CHF higher, hence the decline from 1.20 during that period.
During this time, moving average were providing resistance, pushing the price lower continuously. The Swiss National Bank (SNB) has been intervening in markets, buying EUR/CHF, but without much success. That was until May 18th, when they intervened again.
This time they succeeded, but it was mainly for the fact that European leaders threw the idea of a coronaviorus recovery plan from the EU. That improved the sentiment for the Euro, which has been trading bullish since then, after this pair bounced form 1.05. The price pulled back down from above 1.09, but climbed back up again. Now it seems like moving averages have turned into support.
We saw another pullback on Tuesday, but the 50 SMA (yellow) and the 100 SMA (green) provided support on the daily chart and now it seems like EUR/CHF will be heading higher. The real target now is the big round level at 1.10. So, if you want to go long from here, the aim should be around 230 pips, while the stop should be below the 50 SMA.
Today the situation has reversed completely as Credit Suisse is showing difficulties, which has hurt risk sentiment
2 weeks ago