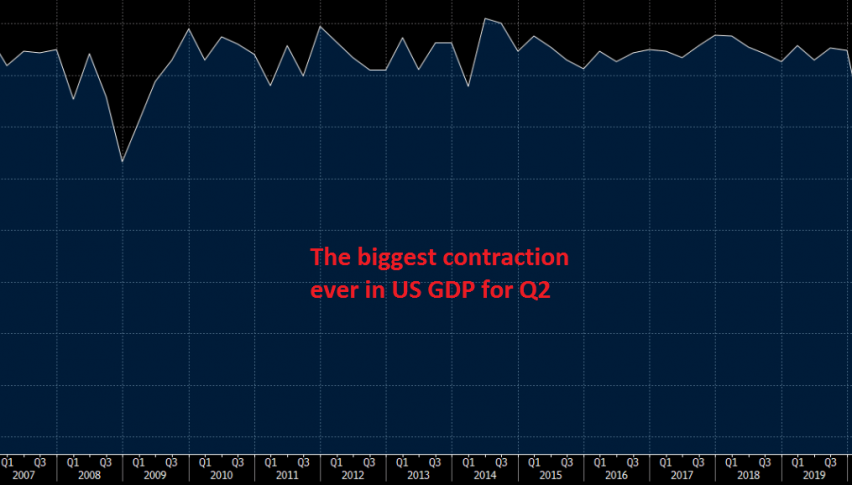 US GDP Posts A Record Contraction in Q2
The US economy was hit the heaviest during the lock-down months, as those actions hurt businesses, while the protests gave the US economy another kick, which are still going by the way. As a result, economists were expecting a 34.5% decline in the GDP during Q2, which is more than a third. The actual numbers came at -32.9%, which is just below 1/3rd, but that's still a massive contraction. Stock markets have taken another dive lower, although everything seems to be declining at the moment.
The first look at US Q1 GDP (numbers are annualized)
Q2 advance GDP -32.9% vs -34.5% expected
Worst US quarter on record
Q1 was -5.0%
Ex motor vehicles -30.8%
Personal consumption -34.6% vs -34.5% expected
GDP price index -18.% vs 0.0% expected
Core PCE -1.1% vs -0.9% expected
Consumer spending on durables -1.4% vs -13.8% prior
GDP final sales -29.3% vs -3.5% prior
Business investment -27.0% vs -6.4% prior
Business investment in equipment -37.7%
Exports -64.1%
Imports -53.4%
Inventories cut 3.98 pp from GDP (-$315.5B)
The market was likely looking for a small beat after the trade data yesterday and that wouldn't have been reflected in the consensus, but it came through in the Atlanta Fed tracker. It's tough to put any of this into perspective — it's such a massive drop. We're going to see a huge rebound in Q3 but you need a 50% to recoup a 32.9% drop and that's a long shot.
We have some important economic events this week, although crude Oil is under spotlight as China's economy should show a rebound
4 weeks ago