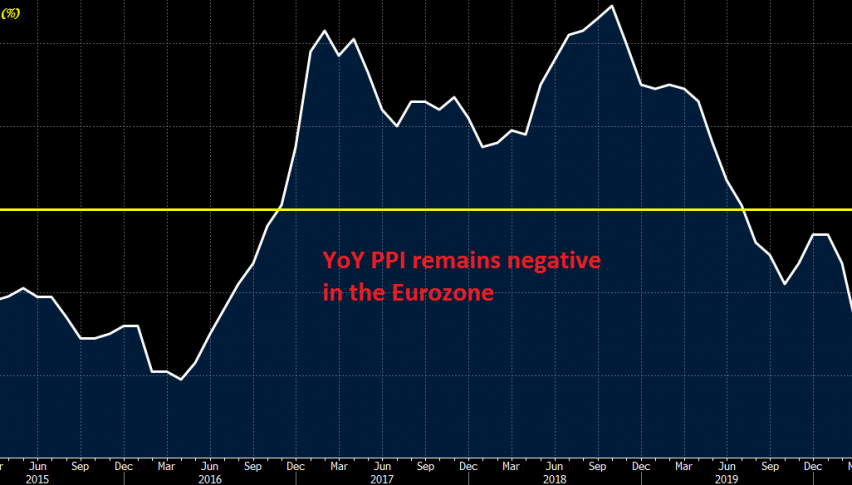 Eurozone PPI Jumped in June, But Remains Negative YoY
The PPI (producer price index) report from the Eurozone for June was released a while ago, posting a nice jump for June. PPI inflation turned massively negative from February until May, as the Oil prices kept tumbling lower due to the coronavirus outbreak in China and then in the West, which turned improt prices negative. But, it seems like the PPI has jumped in June, as Oil prices increased again.
Eurozone June PPI Report Released by Eurostat – 4 August 2020
June PPI MoM +0.7% vs +0.6% expected
MAy 0.6%
June PPI YoY -3.7% vs -3.8% expected
May PPI YoY -5.0%
Producer prices improved a little once again in June but are still largely subdued relative to a year ago. The data here is a proxy for inflation pressures in any case and is a lagging indicator, so not much else to really gather from the release. EUR/USD keeps a little firmer still just under the 1.1800 handle as the battle around key near-term levels continues on the session. ECB's Lane was also feeling slightly more positive today, but there is still plenty of room for improvement in markets.
Comments by ECB chief economist, Philip Lane
ECB is committed to providing stimulus needed to support the economic recovery
Overall PEPP envelope is a core determinant of ECB's policy stance
There is some rebound in economic activity
But level of economic slack remains extraordinarily high
The outlook remains highly uncertain
Inflation outlook plays the central role in determining appropriate policy stance
Nothing that really stands out from Lane in the grand scheme of things. This just reaffirms that the ECB will stay committed to deliver on the full PEPP envelope – at the very least – by the middle of next year. He is commenting on the macroeconomic impact of the coronavirus pandemic and the policy response by the ECB. The blog post can be found here.