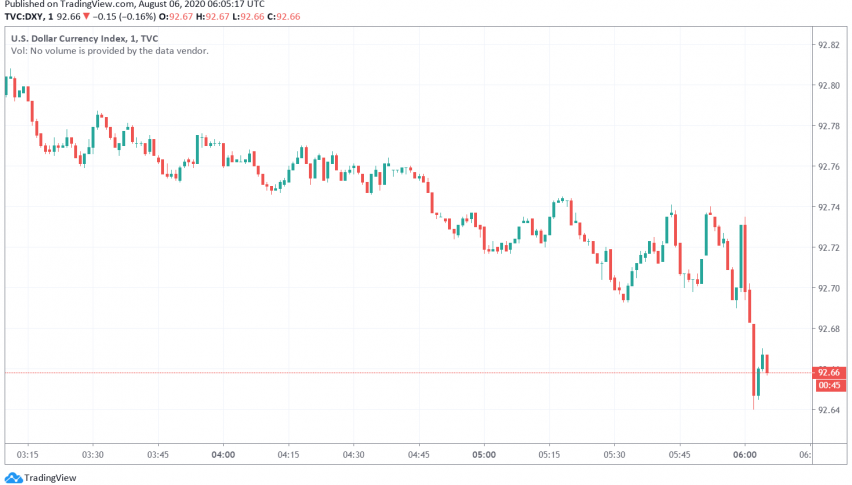 Worries About US's Economic Recovery Keep Dollar Under Pressure
Posted Thursday, August 6, 2020 by
Arslan Butt
• 1 min read
The broad based weakness in the US dollar continues into Thursday over concerns that economic recovery in the US would take longer than in other countries, with the number of coronavirus cases continue to climb higher in the country. At the time of writing, the US dollar index DXY is trading around 92.66.
During the previous session, the US dollar index fell by over 0.5% to a two-year low once again. The Greenback has been trading bearish over the past few sessions as economists, traders and officials hint at the US economy taking longer than previously anticipated to recover in the aftermath of the pandemic, as the country remains the most affected in the world in terms of infections.
Meanwhile, the Euro continues its bullish moves against the dollar, boosted by hopes of economic recovery in Europe after leaders came to an agreement over the economic recovery fund in late July. In addition to the stimulus measures, Europe has been able to contain the coronavirus pandemic to a greater extent, with several countries returning to normalcy after lockdowns and working towards economic recovery at a faster pace than the US.
Additional weakness in the US dollar was driven by recent economic data releases during the previous session, particularly a disappointing ADP employment report which showed that job growth in the private sector experienced a sharp reduction in July. The US ISM non-manufacturing PMI also revealed a slowdown in the number of jobs in the sector, even though the headline figure marked an improvement as a result of an increase in new orders.