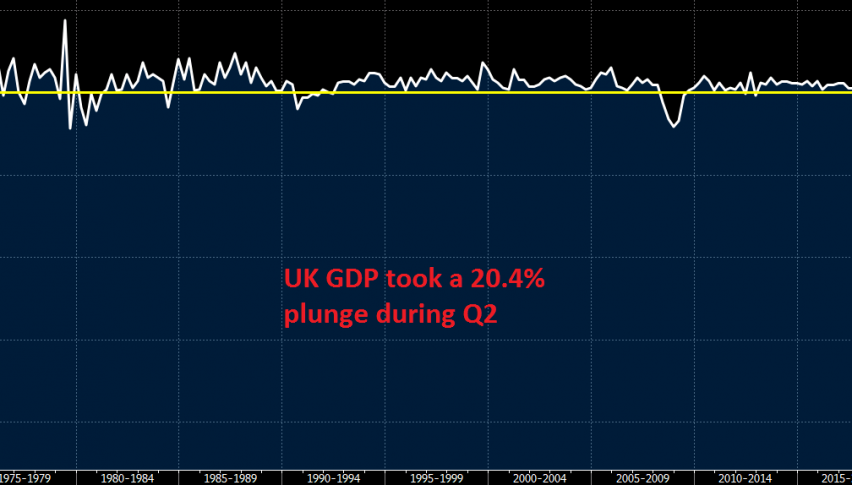 UK GDP Dives in Q2, But Makes A Strong Bounce in June
The UK economy was already pretty weak last year, due to the Brexit process, as well as from the weakening global economy. But, the coronavirus lock-down gave it a final blow, sending it diving lower, by more than 20% in Q2. Although, the Q2 is history now and the GPD number for June is showing a decent rebound, although it's not as strong as in other countries. Below is the Q2 and the June GDP reports from the UK:
UK Q2 Prelim GDP Report
Q2 preliminary GDP -20.4% vs -20.7% QoQ expected
Q1 preliminary GDP -2.2%
GDP YoY -21.7% vs -22.3% expected
Prior GDP YoY -1.7%
Private consumption Q2 -23.1% vs -18.9% expected
Private consumption Q1 -2.9%
Government spending Q2 -14.0% vs +0.7% expected
Government spending Q1 -4.1%
Exports Q2 -22.3% vs -21.5% expected
Exports Q1 Prior -13.5%
Imports Q2 -23.4% vs -23.9% expected
Imports Q2 -9.4%
Total business investment Q2 -31.4% vs -30.0% expected
Total business investment Q1 -0.3%
Slight delay in the release by the source. This just confirms the biggest quarterly fall in UK GDP on record as the economy gets hit on all fronts by the pandemic. The collapse hit consumption, trade conditions, and investment – which we already know for the most part – hard and that led to the sharp drop in economic activity. In any case, the market is solely focused on the recovery so this is "old news" as far as things go at the moment. Cable still sits lower on the day around 1.3030-40, little changed.
UK June Prelim GDP Report
June monthly GDP +8.7% vs +8.0% expected
May GDP +1.8%; revised to +2.4%
Index of services +7.7% vs +8.0% expected
Prior index of services +0.9%; revised to +1.5%
Slight delay in the release by the source. The positive takeaway here is that the UK economy improved further in June but ONS notes that overall economic activity in the month is still a sixth below its level in February i.e. pre-virus impact. There isn't much else to gather from the report here as it just reaffirms a modest rebound since bottoming out in April but the outlook still remains uncertain moving forward.
There's also factory activity data released at the same time are as per below:
Manufacturing production +11.0% vs +10.0% m/m expected
Prior +8.4%
Manufacturing production -14.6% vs -15.0%  y/y expected
Prior -22.8%
Industrial production +8.7% vs +9.0% m/m expected
Prior +6.0%
Industrial production -12.5% vs -13.1% y/y expected
Prior -20.0%
Construction output +23.5% vs +15.0% m/m expected
Prior +8.2%
Construction output -24.8% vs -29.5% y/y expected
Prior -39.7%