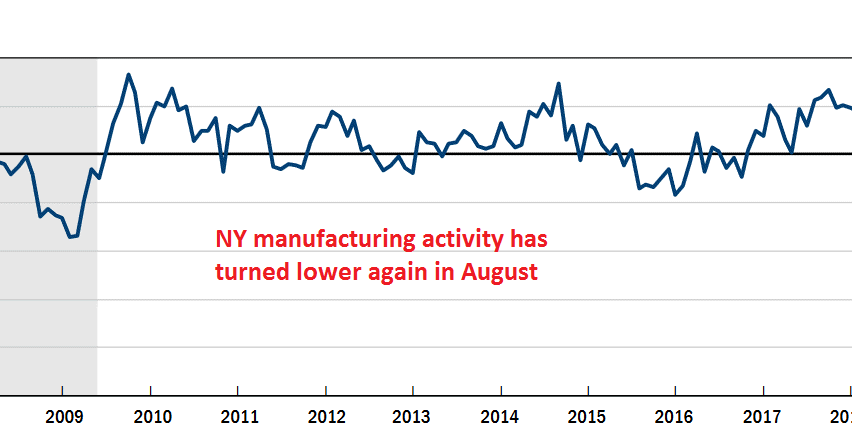 The Weakness in the Eocnomic Rebound Is Obvious, As NY Manufacturing Cools Off
Manufacturing fell to some record low levels in the US during the lock-down months, as this sector did all over the world. Many economists were hoping for a strong rebound after the lock-downs, which was partly what we have seen in the last few months.
But, the recovery seems to be weakening now. The New York manufacturing activity jumped higher in July, leaving behind contraction, but this month we see that the Empire FED manufacturing indicator has slowed again:
New York Empire FED Manufacturing Survey for August
August Empire Fed manufacturing index+3.7 points vs +15.0 expected
July Empire Fed manufacturing index was +17.2 points
Future business conditions 34.3 vs 38.4 prior
Shipments +6.7 vs +18.5 prior
Capex +6.0 vs +9.1 prior
Survey from Aug 3-10
This is a disappointment and the drop in new orders isn't good for the outlook.
"Business activity edged slightly high-er in N e w Yo r k State, according to firms responding to the August 2020 Empire StateManufacturing Survey. The headline general business conditions index fell fourteen points to 3.7, signaling a slower pace of growth than in July. New orders were little changed, and shipments increased mod-estly. Unfilled orders were down, and inven-tories declined. Employment inched higher, while the average workweek declined. Input prices increased at about the same pace as last month, while selling prices increased for the first time in several months. Firms remained optimistic that conditions would improve over the next six months, though optimism fell for a second consecutive month."
This is a disappointing report. Manufacturing activity has declined considerably this month, heading towards contraction again. Besides that, the drop in new orders isn't good for the outlook either, which shows that activity might fall further in the coming months. At least, employment has picked up. But, I assume the protests and the riots in New York are hurting the business activity in that state, so we will have to compare it with other states.
GBP/USD is testing the 200 daily SMA for the second time, which held for the second time last Friday
4 weeks ago
USD/CAD surged 150 pips higher today as the USD buyers returned, although it's the first trading day of 2023
3 months ago