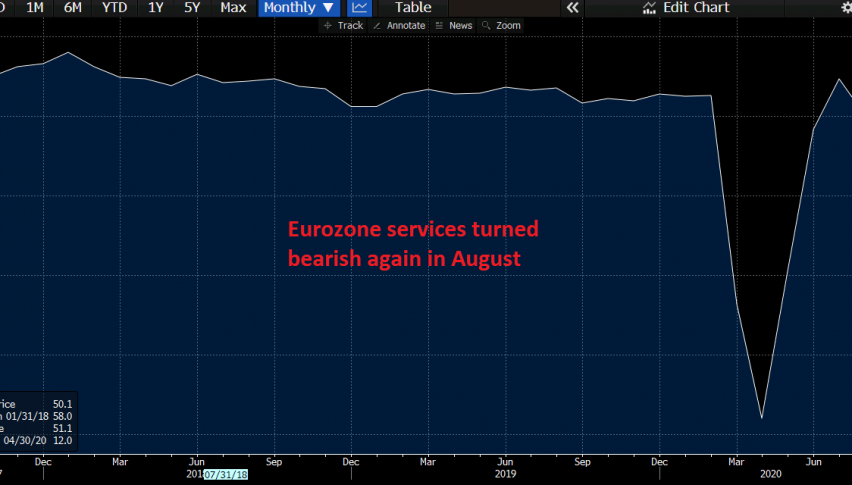 Services and Manufacturing Dive Again in the Eurozone
The manufacturing and particularly services dived really hard in Europe during March and April, as the continent went into lock-down. But, we saw a rebound in the following months, as everyone was hoping for one. But, the economic recovery is getting weaker and today's manufacturing and services figures from Europe were quite soft, showing that both sectors are heading towards contraction again, particularly services, as they took another dive this month.
Manufacturing already fell in contraction again in France, so the situation is not looking good and EUR/USD has lost more than 100 pips after that report was released. Below are the manufacturing and services reports:
Eurozone Services and Manufacturing Data
August flash services PMI 50.1 vs 54.5 expected
July flash services was 54.7
August manufacturing PMI 51.7 vs 52.9 expected
July manufacturing was 51.8
Composite PMI August 51.6 vs 54.9 expected
July compposite PMI 54.9
The earlier release from Germany and France pointed to a slow down in the PMI data and the European data is below expectations across the board. EURUSD down a few ticks towards session lows. This does not bode well for Friday in terms of risk, UK PMI's to come in 30 minutes. This is a pivotal point for the eruozone and the slowing recovery picture will be eyed carefully by the ECB.
  French Services and Manufacturing Data
France August flash manufacturing PMI 49.0 vs 53.7 expected
July flash manufacturing 51.9
August services PMI 51.9 vs 56.3 expected
July services was 57.3
Composite PMI August 51.7 vs 57.2 expected
Prior composite PMI was 57.3
EURUSD is down to 1.1850. All readings below the minimum expectations. Not good news for the ECB and risk tone gets a hit with US oil falling too. This casts doubt over the V shaped recovery…
German Services and Manufacturing Data
August flash manufacturing PMI 53.0 vs 52.5 expected
July flash manufacturing was 51.0
August ervices PMI  50.8 vs 55.1 expected
July services was 55.6
Composite PMI 53.7  vs 55.0 expected
Prior composite was 55.3
Ok, a mixed bag. A beat on the headline manufacturing, but a services and composite miss. EURUSD digesting the reading and leaning to the downside now at 1.1835. French PMI out earlier was a disappointment and it will be interesting to see the headline reading for the eurozone out in 30 mins. Market tilting risk off with European stocks lower.
GBP/USD is testing the 200 daily SMA for the second time, which held for the second time last Friday
1 month ago