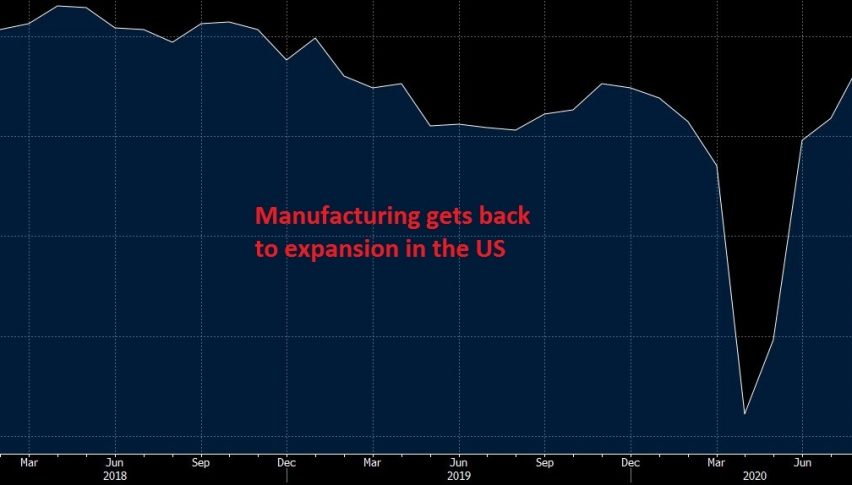 Manufacturing and Services Jump in the US, Unlike in Europe
This morning we saw the manufacturing and particularly the services report from Europe come out quite weak for this month. These sectors bounced after the deep dive during the lock-down months in spring, but it seems like the economic rebound is flattening out now. The reports from Europe today suggested that we might see a similar scenario in the US, but that's not happening. Instead, manufacturing and services activity jumped higher in the US this month, as business activity also increased.
Markit PMI data for August 2020 (preliminary)
US August manufacturing PMI 53.6 points vs. 52.0 estimated
July manufacturing PMI stood at 51.3 points, revised lower to 50.9
US services PMI 54.8 points vs. 51.0 estimates
July services stood at 49.6 points, but was revised to 50.0 points
Composite PMI 54.7 points vs. 50.3 previously
This is an 18 month high for composite PMI
New manufacturing orders 54.3 points vs. 51.3 previously
New service orders 54.0 vs. 49.4 last month
Order backlog jump to the highest since October 2009
Good data from the PMI preliminary statistics. US stocks have moved back positive. The NASDAQ is trading up about 15.5 points or 0.15%. The S&P is up 1.1 point or 0.04%. The Dow industrial average is up 33 points or 0.12%. US yields are moving back higher. The 10 year yield is near unchanged levels at 0.646%. The 30 year is down -0.7 basis points at 1.375%.
GBP/USD is testing the 200 daily SMA for the second time, which held for the second time last Friday
4 weeks ago