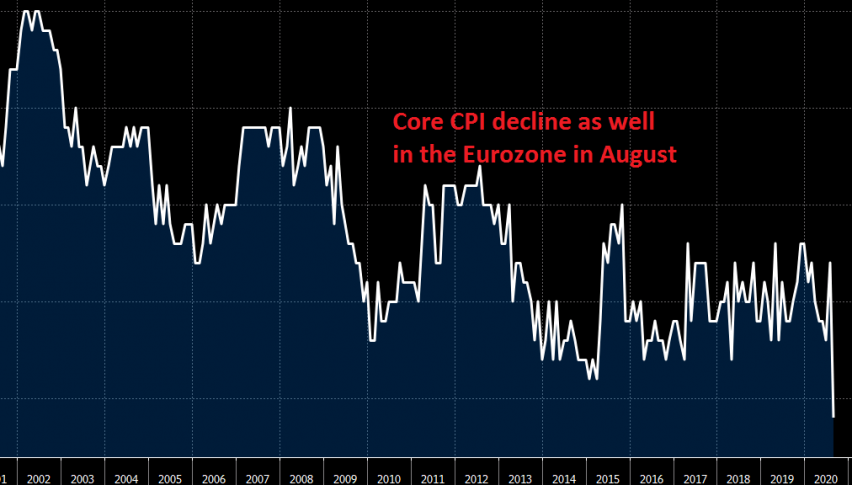 Eurozone Inflation Turns Lower Again in August
The Eurozone economy took a major hit during the lock-downs, due to coronavirus, as did all other economies around the globe. The Eurozone economy was already in difficulty before the covid, but during Q2 we saw a major contraction like never before.
Inflation cooled off considerably, which headline CPI (consumer price index) falling to 0.1% in May. Although, it started recovering in June and July, increasing to 0.4%. But, today's report showed that CPI fell into negative territory this month at -0.2% for the first time in a long period. Nonetheless, EUR/USD keeps grinding higher due to the weakness in the USD.
Eurozone GDP Report Released by Eurostat – 1 September 2020
August preliminary CPI YoY -0.2% vs +0.2% expected
July CPI YoY stood at +0.4%
Core CPI YoY +0.4% vs +0.8% expected
August core CPI +1.2%
That is a considerable miss on inflation estimates and certainly isn't an encouraging sign. The deflationary effects of the pandemic is truly being felt right now across the euro area and this is a development to watch closely in the coming months.
The ECB may still afford to wait for now before reacting but a more severe drop in price pressures and inflation expectations potentially deanchoring may prompt some form of action. If anything else, don't expect them to be too happy with a rising euro. For now, the single currency is taking the data in stride with EUR/USD seen at 1.1970, not reacting much to the headlines.
Eurozone July Unemployment Rate
July unemployment rate 7.9% vs 8.0% expected
June unemployment rate stood at 7.8%
The jobless rate in the region ticks higher a little but again the true nature of underlying labour market conditions is still heavily masked by government furlough programs at the moment. So, it is tough to draw much conclusions from the data here for now.
The US banking sector is having more troubles than European banks, which should keep the FED dovish, and risk assets bullish
5 hours ago