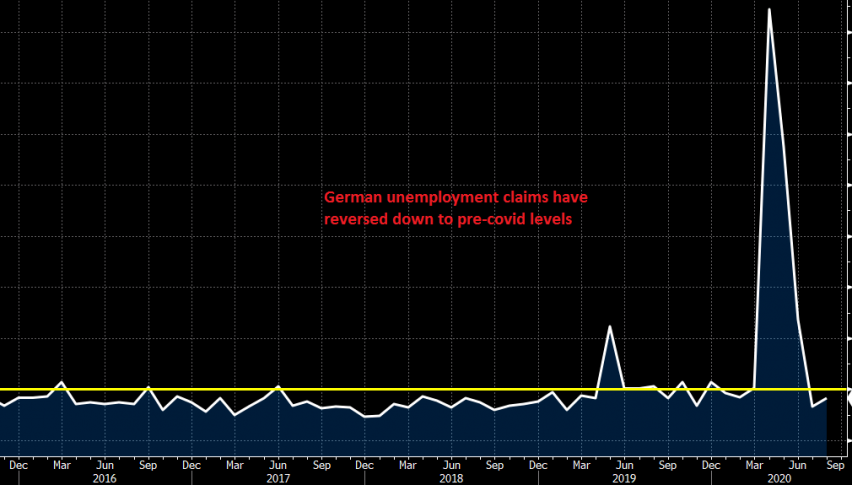 Today's Eurozone Data Shows That Economic Weakness Still Remains Europe
The Eurozone economy posted a strong bounce in May and June, after the reopening of the continent, but it seems like the V-shape recovery won't happen, as the Eurozone economy is showing signs of weakness now. Earlier today we saw the CPI inflation which turned negative this month, while French and Italian manufacturing sectors remain in contraction. The German data is showing that the economy is not as bad as in the south of Europe, but it's not keeping the previous pace. So, everything is slowing down again now.
Germany August Final Manufacturing
August final manufacturing PMI 52.2 vs 53.0 prelim
July manufacturing stood at 51.0 points
German GDP Forecast
2020 GDP forecast to be revised to -5.8%; previously -6.3%
2021 GDP forecast to be revised to +4.4%; previously +5.2%
This confirms the reports from earlier today, but Altmaier is offering relatively upbeat remarks surrounding the economic situation in general. Alongside the remark on a V-shaped recovery, he also says that Germany has managed to preserve the essence of the economy and does not expect another lockdown similar to that seen in March and April this year. Adding that he expects a return to pre-virus levels at the beginning of 2022.
German Employment Report – 1 September 2020
August unemployment change -9.0k vs -2.0k expected
July unemployment change was -18.0k; revised to -17.0k
Unemployment rate 6.4% vs 6.4% expected
Prior unemployment rate at 6.4%
That's more positive news on the German labour market front, but once again this may be all clouded by the state wage/furlough program. But at least for now, there isn't a more significant deterioration in domestic conditions so there's that.
A slight revision lower but it mainly just reaffirms that the German manufacturing recovery is still intact for now at least. That said, there are still fresh concerns with regards to weak domestic demand.
Markit notes:
"The manufacturing sector continues to make up the ground lost during the lockdown, with the survey data for August showing output growth reaching the fastest since early-2018. There has been a sustained strong rebound in new orders, although it's unclear where the true current level of demand is really at, with some firms still noting a catch-up effect due to orders having previously been delayed during the lockdown.

"The encouraging top-line numbers mask ongoing troubles in some sectors, especially machinery and equipment production, which is being hit by a lack of appetite for investment.

"Factory jobs continued to be lost at an unsettling rate in August, which is bad news for domestic demand. However, with backlogs of work at factories on the rise, we're at least seeing the pace of staff cuts slowing down.

"By contrast, the decline in inventory levels has accelerated, with some firms under financial pressure to streamline stocks and many still showing caution in terms of their purchasing activity."
GBP/USD is testing the 200 daily SMA for the second time, which held for the second time last Friday
1 month ago
USD/CAD surged 150 pips higher today as the USD buyers returned, although it's the first trading day of 2023
3 months ago