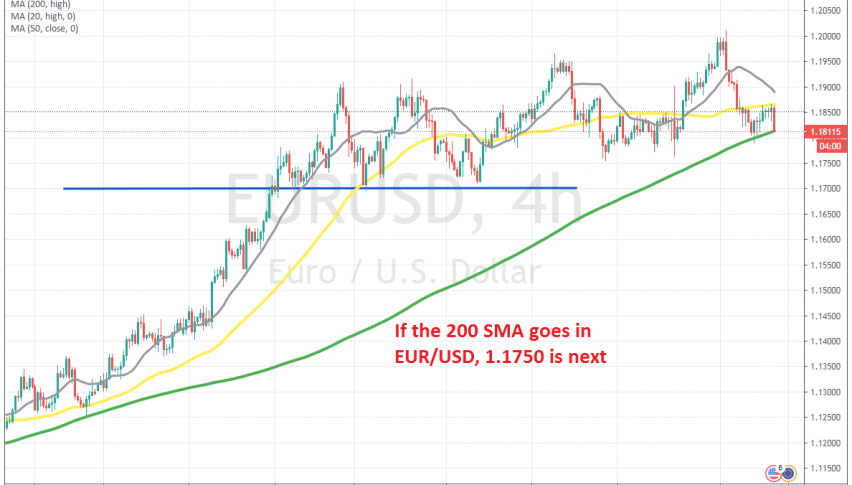 EUR/USD Trying to Make Its Mind Up, Between Remaining Bullish or Turning Bearish
The EUR/USD has been really bullish since March, when it reversed higher from the earlier crash. The uptrend was quite strong until the end of July, but then it slowed down, and buyers have been having difficulties making new highs. Nonetheless, the trend was bullish in August as well.
On September 1, the EUR/USD finally rose above the big round level, at 1.20, but it didn't stay there long, before reversing back down quite fast. So, that didn't count as a break, but rather, buyers reached their big target. This points to a bearish reversal, if that was the goal from the beginning.
The US economy is expanding fast, while in Europe the economy is slowing down, following the initial bounce after the grand reopening. The EUR/USD has fallen below the 50 SMA (yellow) which seems to have turned into resistance now, while the 200 SMA (green) has turned into support.
So, the EUR/USD traders are trying to decide now, whether to remain bullish or turn bearish. All indicators point down, including the US earnings and employment report, which has just been released, therefore I think that we will see some more downside action in the coming days, and we will be trying to sell pullbacks higher.
Risk assets tumbled lower this week, as bank problems escalate, although there was a slight improvement toward the end of the week
2 days ago