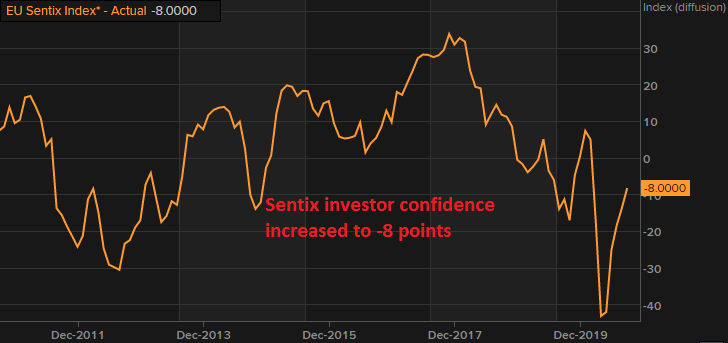 Economic Data in the Eurozone Shows Increased Weakness in terms of Recovery
The economic recovery in the Eurozone was looking impressive in the first two months after the reopening, during May and June, but the recovery has started to slow down now, showing some major signs of weakness, unlike in the US, where the recovery is maintaining the pace of the first two months. The investor confidence is improving, but as the Sentix report showed, it still remains negative, at -8 points, while the increase in factory orders in July cooled off considerably.
Eurozone September Sentix Investor Confidence
September Sentix Investor Confidence -8.0 points vs -10.5 expected
August Sentix Investor Confidence was -13.4 points
This was a bit of an early release by Reuters, as the data is scheduled for 08:30 GMT. The uptick shows continued improvement in investor sentiment, but with some slowing down evident in the pace of the recovery, it remains to be seen whether such optimism can hold up as we move into Q4.
July Industrial Production, Germany
July Industrial Production MoM +1.2% vs +4.5% expected
June Industrial Production was +8.9%; revised to +9.3%
Industrial Production YoY -10.0% vs -7.4% expected
Prior Industrial Production YoY -11.7%; revised to -11.4%
There was a slight delay in the release by the source. The continued rebound in factory output in July was less robust than expected, and that is likely to keep hopes of a sustained recovery in check, as we look towards the latter stages of Q3. For now, this isn't going to impact market expectations too much. As for the euro, just be mindful that large option expiries for the EUR/USD today, at 1.1800-10, are likely to keep price action more muted, with the US on holiday as well.
EUR/USD has turned bullish in the last two days, but we decided to open a sell forex signal at parity
5 months ago
The economic indicators are getting worse in Europe as inflation surges, which will weigh further on the Euro
6 months ago
The economic situation is worsening every day in Europe as prices keep increasing while an energy crisis is expected in winter
7 months ago