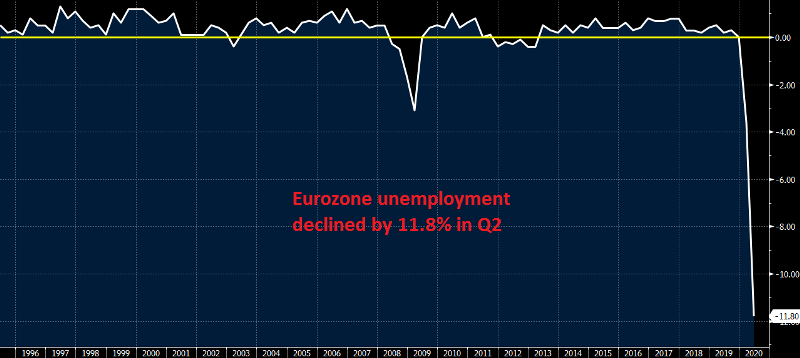 Q2 GDP Revised Higher in the Eurozone, Employment Revised Lower
The initial GDP report from the Eurozone posted a major contraction of 12.1% during Q2, as coronavirus lockdowns had a massive negative impact everywhere, but the figure was revised higher today. Employment, on the other hand, declined by -2.8%, which was revised to -2.9% today, but Q2 is now history. Below, you can see the new GDP report from Eurostat:
Eurozone GDP Report Released by Eurostat – September 8,
 

2020
Q2 final GDP QoQ -11.8% vs -12.1% second reading
GDP YoY -14.7% vs -15.0% second reading
Household consumption QoQ -12.4% vs -12.2% expected
Prior household consumption -4.7%; revised to -4.5%
Government spending QoQ -2.6% vs -2.5% expected
Prior gov't spending -0.4%; revised to -0.7%
Employment Q2 -2.9%, revised down from -2.8%
The mildly higher revision is little consolation, as this just reaffirms the biggest slump in the euro area economy on record. The market is more focused on the recovery phase now, so this data release doesn't mean too much.
We have some important economic events this week, although crude Oil is under spotlight as China's economy should show a rebound
4 weeks ago