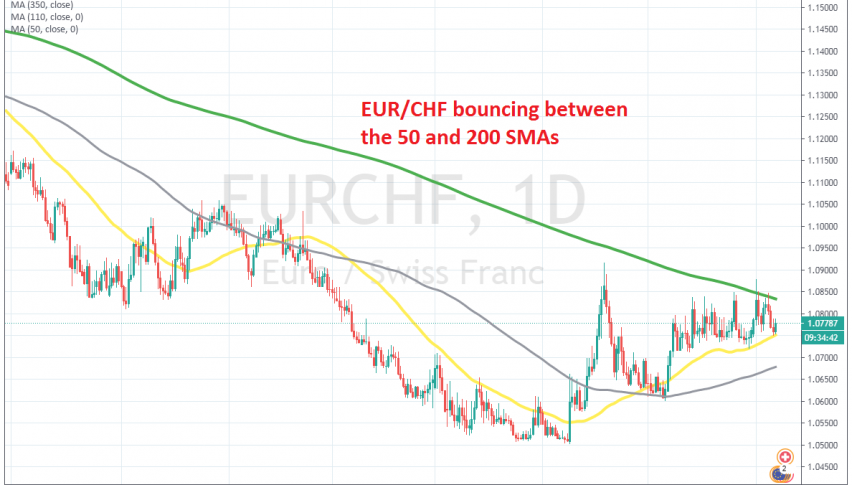 EUR/CHF Getting Squeezed Between MAs
The EUR/CHF was bearish for a few years, until the middle of May, when it made a reversal higher, following comments from EU members about the large EU coronavirus recovery fund. That fund amounted to EUR 1.35 trillion, which improved the sentiment for the euro.
The EUR/CHF turned bullish back then, surging more than 400 pips higher, reaching above 1.09 by the first week of June. But the price pulled back lower, as the overall sentiment turned negative again in June. The currency pair retraced lower, but the 100 SMA (gray) turned into support for this pair.
The EUR/CHF then turned higher in July, from this moving average, and it has been climbing since then. The 50 SMA (yellow) has turned into support since then for this pair, pushing the price higher, but the 200 smooth MA (gray) turned into resistance, rejecting the price.
Now, the EUR/CHF seems to be stuck between these two MAs and the range is getting narrower. A breakout is expected at any time, as the MAs keep squeezing the currency pair.  When the break comes, we might open a trade in that direction, following the price action as well.
Today the situation has reversed completely as Credit Suisse is showing difficulties, which has hurt risk sentiment
6 days ago