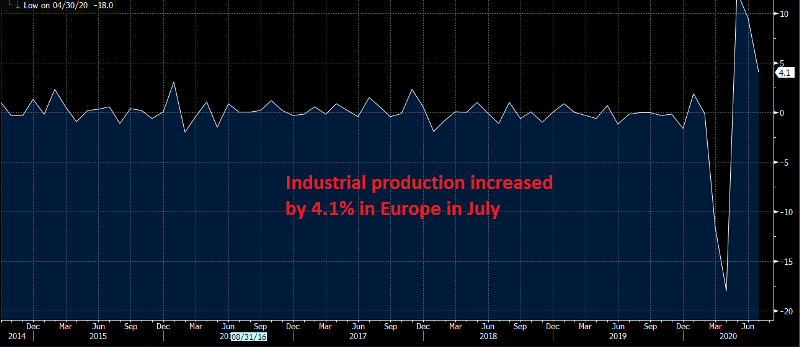 Industrial Production Had Already Started to Cool Off in July
Industrial and manufacturing production has already been quite weak in Europe for the last two years, posting some negative numbers most of the time. During the lockdowns though, industrial production turned massively negative, posting some major declines for March and April.
However, it turned higher when Europe reopened, increasing by 12.4% and 9.5% respectively, but it is cooling off again, and today's report showed a 4.1% increase for July. That's still a strong increase, but production is slowing, and it is likely to fall into contraction again, as the economy of the Eurozone has been showing major signs of weakness in the last two months.
Eurozone July Industrial Production
July industrial production MoM 4.1% vs 4.2% expected
June industrial production +9.1%
Industrial production YoY WDA -7.7% vs -8.1% expected
Prior -12.3%, revised to -12.0%
Industrial production is down from June's reading, as the upward spike after the lifting of the lockdowns recedes. The ECB was more optimistic at their last meeting, and there is nothing here to dampen that optimism. Revisions for the WDA were a touch higher too. The EUR/USD is at 1.1857, and not moving much.