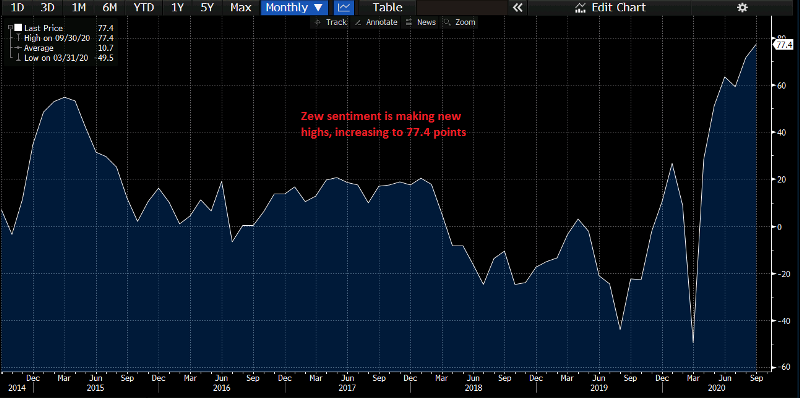 Economic Sentiment for August Improved in Europe, Despite the Softening Economy
The economic rebound looked to be going pretty well in Europe during the first two months after reopening, but it started softening in July, and it softened even further in August, as recent economic data from the Eurozone has shown. However, the economic sentiment keeps improving, despite threats of more lockdowns. The ZEW sentiment improved in Germany and the Eurozone once again in August, as shown below.

ZEW Economic Sentiment Report
German ZEW survey expectations 77.4 points vs 69.8 expected
Prior survey expectations 71.5 points
Eurozone Zew expectations 73.9 points vs 64.0  prior
ZEW says stalled Brexit talks and rising COVID-19 cases could not dampen the positive mood
Negative outlook for the banking sector reveals fears of a rising number of loan defaults in the coming six months
Optimism is growing, but will expectations meet reality? The banking sector is a little more sanguine on what could lie ahead. At 1.1886, the
EUR/USD
was barely moved by the data. All eyes are on the Fed now, with a quiet data slate ahead.