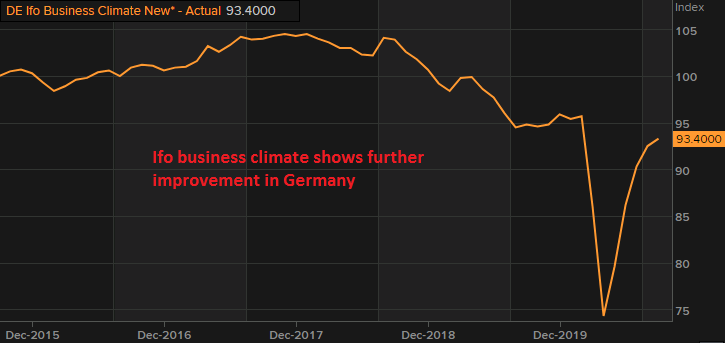 German Economists Feel Optimistic, As Business Climate Improves
The business climate index took a deep dive during March and April, but has climbed well since then. The pace of the reversal was strong in the first few months, but it has slowed in the last months. Although, the business climate is still improving, as the Ifo indicator shows. But, if there are more restrictions from coronavirus, then the sentiment will turn lower again, as businesses start to suffer, like the data for the service sector showed earlier this week.
German Ifo Business Climate Index
September Ifo business climate index 93.4 points vs 93.8 expected
August Ifo business climate index 92.6 points
Expectations 97.7 points vs 98.0 expected
August expectations 97.5 points
Current assessment 89.2 points vs 89.5 expected
August current assessment 87.9 points
Slight delay in the release by the source. German business morale picks up a little more in September across all areas, but the headline index is starting to show signs of leveling off – similar to what the PMI data yesterday suggests. The bright side is that the expectations component continues to reaffirm that optimism is plentiful but it remains to be seen if that can be matched by hard data in Q4.
Comments by Ifo economist, Klaus Wohlrabe
German industry continuing to recover, export expectations improved significantly
German exporters profiting from industrial recovery in major trading partners
Rising infection rate is hurting sentiment in the services sector, especially tourism
Brexit and US election not yet have had any impact on German business
This was also evident from yesterday's PMI data, which saw the manufacturing sector print climb to its highest in over two years – helped by a return in foreign demand. Meanwhile, the services sector is suffering and that is a warning sign that the recent strength in domestic demand/consumption may wane further towards the end of the year.