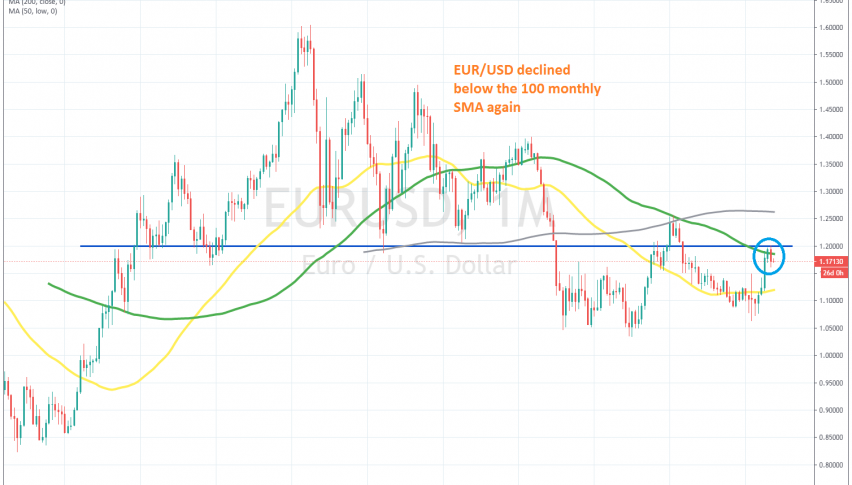 The Monthly Chart Confirms the Bearish Reversal in the EUR/USD
The EUR/USD has been on a bearish trend since July 2008, as explained in the long-term EUR/USD forecast. It reversed down right before the financial crisis, and the highs keep getting lower on higher time-frames, as the monthly chart shows. A base formed at 1.20, and it remained there for several years, but on January 2015 that support zone was broken, and the price continued lower.
The EUR/USD got pretty close to parity, but it managed to avoid it, and in 2017 this pair turned bullish, retracing more that 20 cents higher, although, the 100 SMA (green) turned into resistance and rejected the price a few times, with some help from the 200 SMA (gray) as well.
Then the price returned back down, and the 50 SMA (yellow) held as support for about a year, but it was eventually broken. Then the coronavirus turned markets crazy, and the USD has turned bearish since March, sending the EUR/USD higher. The price climbed above 1.20, rising above the 100 SMA, but that seems to be a stop hunting push, because the price reversed soon afterwards, piercing 1.20.
September's candlestick is larger that the previous one from August, including the wicks, which also point towards a bearish reversal, as a bearish engulfing candlestick pattern. So, this looks like a good time to sell the EUR/USD long term, although I would wait for a retrace higher, closer to 1.20, in order to minimize the risk and maximize the profit potential. By that time, the US elections will be over as well, which will remove a big risk factor for the USD, which is keeping the pair down.
The US consumer is softening as intertest rates go up, which is a factor for the USD retreat and for the FED to stop hikes
2 days ago